Contact: Sarah Nicholas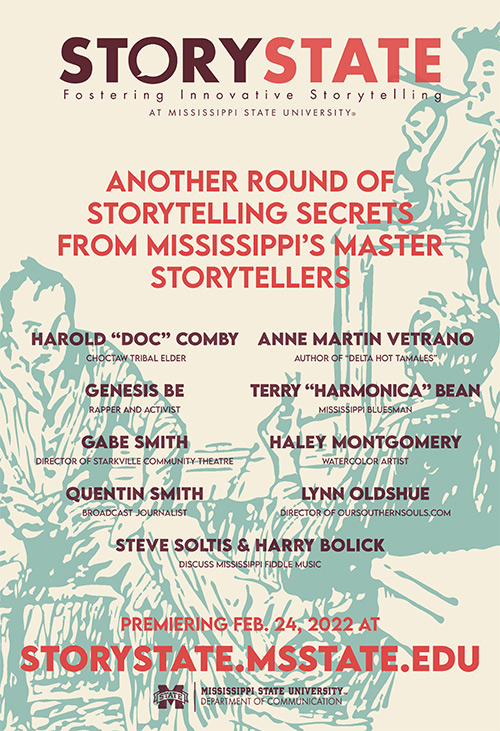 STARKVILLE, Miss.—Mississippi State University's communication department this month hosts Story State 2022—an event that features well-known Mississippi storytellers as they continue the tradition of telling meaningful Magnolia State narratives. The department also is sponsoring a contest for new and original written, oral or filmed stories.
The contest is open and accepting original submissions about any topic. Undergraduate students from any public or private university or college are invited to email their nonfiction writings, podcasts or short documentary films to storystate@comm.msstate.edu by Feb. 11.
Winners will be announced Feb. 24 during the virtual Story State event. Cash prizes will be awarded to category winners and to the 2022 overall master storyteller. 
For specific category, submission and award details, visit www.storystate.msstate.edu.
As the birthplace of the blues and home to famous writers and artists, Mississippi is in the spotlight throughout Story State, which honors the state's artistic heritage and demonstrates how new creators have transformed the art of storytelling.
"Our state produces storytellers who are able to connect and move their audiences," said Josh Foreman, coordinator of Story State 2022 and an MSU communication instructor. "There must be something in the humid air here, or the water—we just love to tell stories, and to listen."
Foreman, also an advisor to The Reflector student newspaper, said, "This year we have storytellers of all different ages and backgrounds, and they are so skilled at what they do. I am so happy we get to highlight these great writers, musicians, artists, directors and more—and that we get to recognize the students at our universities who will be telling Mississippi's stories for the next several decades."
Presentations will be broadcast on the Story State website, www.storystate.msstate.edu, on Feb. 24. Invited speakers include:
—Genesis Be, rapper, speaker and activist who advocated for changing the Mississippi flag. 
—Terry "Harmonica" Bean, renowned Mississippi bluesman from Pontotoc.
—Harold "Doc" Comby, Mississippi Band of Choctaw Indians tribal elder. 
—Haley Montgomery, watercolor artist based in Starkville.
—Lynn Oldshue, Mobile-based documentarian with the website oursouthernsouls.com and writer who recently published a collection of her journalistic work. 
—Gabe Smith, director of the Starkville Community Theatre. 
—Quentin Smith, broadcast journalist based in Jackson. 
—Steve Soltis, executive-in-residence at the University of Virginia's Darden School of Business, and Harry Bolick, one of the foremost scholars of Mississippi fiddle music.  
—Anne Martin Vetrano, broadcast journalist and scholar of Mississippi Delta cuisine who recently published a book on the history of tamales.
For more details about MSU's College of Arts and Sciences or its Department of Communication, visit www.cas.msstate.edu and www.comm.msstate.edu.