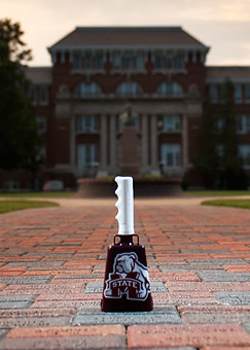 The Walk of Honor and the Eternal Flame Monument were created in 1997 to honor those who contributed to Mississippi State University through its first major gifts campaign, The Campaign for Mississippi State...Serving Mississippi and Beyond.
The Walk of Honor is a 170-foot walkway that stretches from the Stephen D. Lee statue to the flagpole on the historic Drill Field The walkway permanently displays bricks honoring alumni and friends who contributed $500 or more to The Campaign for Mississippi State. These bricks, some 6,400 of them, are a lasting tribute to what was at that time the most successful fund-raising venture in university -- and state of Mississippi -- history. More than $143 million was contributed to the five-year campaign, which officially ended June 30, 1997.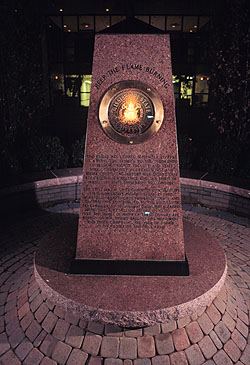 The Eternal Flame Monument, located in front of Allen Hall (administration building), is a perpetual tribute to the thousands of alumni, friends, faculty, and staff who generously supported Mississippi State during the campaign. The flame is a visual symbol of the five-year effort, which raised gifts for campus construction projects, the renovation and modernization of laboratories, the establishment of electronic classrooms, and the enhancement of library holdings, among other things. The monument was unveiled on September 27, 1997.
Donors to The Campaign for Mississippi State will forever be linked to the university. The names of many of them are etched on the bricks around the base of the Eternal Flame monument and on the bricks that form the Walk of Honor.
A marble stone in the walk carries this message:
Inscribed here are the names of those who made significant commitments to The Campaign for Mississippi State, 1992-1997.

As you tread this walk, contemplate the names of those who have traveled this way before you. Their contributions have helped secure the educational opportunities you now enjoy. As you walk where they have walked, honor their loyalty to Mississippi State with your own commitment to excellence.

Funds for the construction of this walk were provided by James K. Ashford, National General Chairman of The Campaign for Mississippi State.
---
Search for Your Brick on the Walk of Honor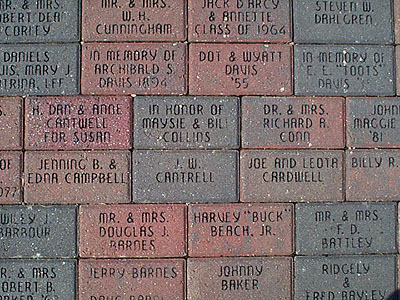 Now it is easier than ever to locate your brick next time you visit campus. Simply use the search engine below to find the section and the row on which your brick is laid. To do so, just enter your last name, or the last name of the family member or friend whom you honored with a brick, and click on the "Search" button.
Leave your mark today with our new brick program. Participate in the Maroon Mile.