Contact: James Carskadon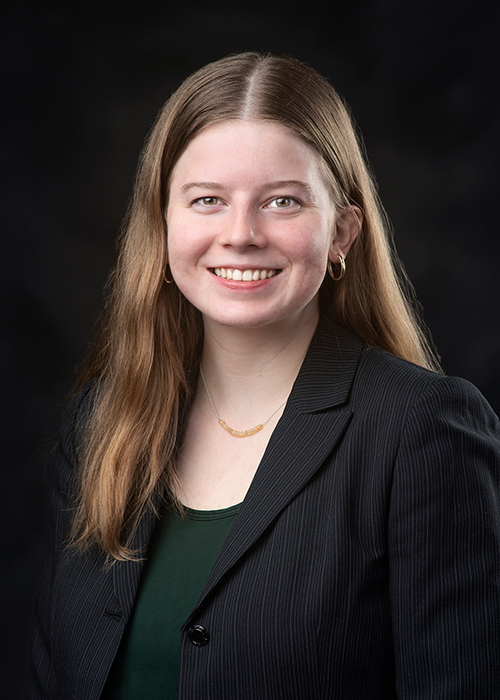 STARKVILLE, Miss.—A Mississippi State University political science and philosophy double major is among a select group of 189 students nationally to be named a finalist for the Harry S. Truman Scholarship.
Mia Robertson, a Starkville native, will interview for the scholarship next month. A member of MSU's Judy and Bobby Shackouls Honors College, Robertson is a pre-law student, an accomplished speech and debate champion, and a recipient of the Malcolm and Olivia Portera Presidential Endowed Scholarship at MSU.
Robertson was selected as a finalist from a pool of more than 700 applicants representing 275 institutions. Established by Congress in 1975, the Truman Scholarship carries the legacy of the nation's 33rd president by supporting and inspiring the next generation of public service leaders. Robertson plans to graduate from MSU in 2023 and pursue law school. Her career goals include working as a public defender and establishing a nonprofit dedicated to reforming Mississippi's public defense system.
As a high school senior, Robertson began expressing interest in the Truman Scholarship and wanted to be a part of the community of Truman scholars. She said MSU has supported her in everything she has pursued, including support from the Office of Prestigious External Scholarships as she compiled her Truman Scholarship application and now prepares for next month's interview.
"Mia Robertson exudes commitment to public service and leadership from every pore. She is a leader who is absolutely dedicated to resolving the injustices of our current criminal justice system that include but are not limited to unequal and inadequate legal representation," said Office of Prestigious External Scholarships Director David Hoffman. "As a student leader here on campus, she has demonstrated her ability to enroll and organize others to take concrete actions that are already making a difference for incarcerated individuals here in the state of Mississippi. In sum, Mia embodies the dedication to public service that is the hallmark of a Truman Scholar," continued Hoffman, who also is an associate professor in MSU's Department of Anthropology and Middle Eastern Cultures.
"Being a finalist is more of an honor than I can ever say, and I'm grateful to be able to bring some recognition to MSU," Robertson said. "Dr. Hoffman and all in the honors college have poured so much into me over the last few months to prepare me and craft my application. I consider the honor all of ours."
Truman Scholars demonstrate outstanding leadership potential, a commitment to a career in government or the nonprofit sector, and academic excellence. Each Truman Scholar receives funding for graduate studies, leadership training, career counseling, and special internship and fellowship opportunities within the federal government. For more, visit www.truman.gov.
"The overwhelming interest in public service from this year's applicants is inspiring, said Terry Babcock-Lumish, the Truman Foundation's executive secretary. "Recent years tested our nation with a deadly pandemic, an economic crisis, and a renewed call to address climate change, racial injustice, and the health of our democratic institutions. While these are trying times, Americans can take solace that a generation of action-oriented young leaders are already tackling today's challenges with an eye towards bettering tomorrow's world."
During her time at MSU, Robertson has been heavily involved with the MSU Speech and Debate Council, including winning the university's first individual national championship in debate. She said participating in debate has given her skills that cannot be found anywhere else.
"I've learned to think on my feet, defend a position from scrutiny, and relay complex information in a manner the average person understands," Robertson said. "I think the greatest benefit I have seen, though, is that debate forces me to rationalize my positions and consider opposing views. I frequently must argue positions I in no way personally believe, and that aspect has changed my life for the better."
Robertson is the founder and president of BARS (Beyond Arrests: Re-Thinking Systemic Oppression), a student organization focused on alternatives to incarceration. The organization led a community-wide book drive and collected more than 1,000 books to be distributed in Mississippi prisons. She is currently director of community and government relations in the MSU Student Association, where she has promoted civic engagement among students and led voter registration drives.
The Starkville High School graduate has garnered work and research experience with The Bail Project, the Stennis Center for Public Service, the Fredericksburg, Virginia Office of the Public Defender, MSU's Civic Life Lab, and the 2020 congressional campaign of former New York Assemblyman David Buchwald.
Learn more about MSU's Shackouls Honors College at www.honors.msstate.edu.
MSU is Mississippi's leading university, available online at www.msstate.edu.