Contact: John Burrow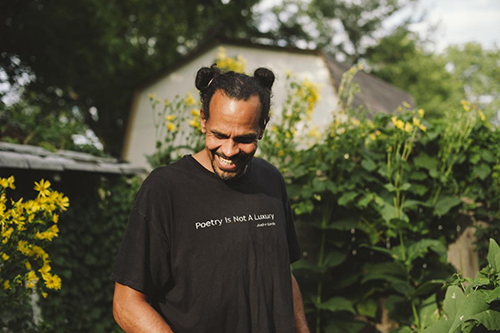 STARKVILLE, Miss.—Mississippi State University is hosting award-winning author Ross Gay for an upcoming virtual writer-in-residence program, an annual campus event of the College of Arts and Sciences.
Gay is author of the New York Times best-selling collection of essays "The Book of Delights" (Algonquin Books, 2019), as well as several collections of poetry, including "Catalog of Unabashed Gratitude" (2015), winner of the 2015 National Book Critics Circle Award and the 2016 Kingsley Tufts Poetry Award. He also is an English professor at Indiana University Bloomington.
Gay will read selections from his poetry and answer questions during the March 1, 7:30 p.m. event, which is free and open to the public, on the Institute's Facebook page, https://www.facebook.com/msu.humanities.institute. 
Mississippi's Poet Laureate and MSU English Professor Catherine Pierce will moderate a question-and-answer period following the program, which annually connects noted authors with MSU students and the wider public for mentoring and training in writing.
This project is supported in part by funding from the Mississippi Humanities Council as well as the National Endowment for the Arts. The annual writer-in-residence program is hosted by the college's Institute for the Humanities and the Department of English.
"During his time in residence, Ross Gay will be giving a public reading, visit with a class, meet with students, and lead a community-based writing event," said Pierce.
"Ross Gay is a brilliant poet and essayist, and one of the most dynamic and exciting writers out there," she continued. "His clear-eyed, incisive work explores genuine joy and delight alongside injustice and heartache. I think our entire community will benefit tremendously from the opportunity to hear and learn from this incredible writer."   
In addition to the public reading, Gay will join Pierce on March 3 at 7:30 p.m. for a virtual writing workshop, also free and open to the public.
"Ross's poetry is honest and personal, but also accessible, meaningful and uplifting," said Julia Osman, institute director and an associate professor of history.
Osman said the workshop is "for anyone who loves to write, from practicing writers to word-dabblers." To register, visit the Institute for Humanities website at www.ih.msstate.edu. 
"Ross and Katie will talk about writing with the participants and will provide some writing prompts and encourage people to share their words," said Osman. "It's a great way for people who write in their spare time, or who have taken joy in writing, to relate to Ross and Katie as fellow writers."
In addition to "Catalog of Unabashed Gratitude," Gay is the author of three other books of poetry: "Against Which," a 2006 CavanKerry Press publication; and University of Pittsburgh Press publications "Bringing the Shovel Down" (2011) and "Be Holding" (2020).
Gay co-authored with Aimee Nezhukumatathil the chapbook "Lace and Pyrite: Letters from Two Gardens." He co-authored with Richard Wehrenberg the chapbook "River." He is a founding editor, with Karissa Chen and Patrick Rosal, of the online sports magazine, Some Call it Ballin'. He also is a founding board member of the Bloomington Community Orchard, a non-profit, free-fruit-for-all food justice and joy project.
As part of MSU's College of Arts and Sciences, the Institute for the Humanities is active on social media on Instagram @msstatehumanities, Twitter @Humanities_MSU and Facebook @msu.humanities.institute.
MSU's Department of English is online at www.english.msstate.edu, or on social media on Facebook @MississippiStateEnglish and Twitter @MSStateEnglish.
MSU's College of Arts and Sciences is home to the most diverse units for research and scholarly activities, including natural and physical sciences, social and behavioral sciences, and the humanities. For more details about the college, visit www.cas.msstate.edu.
MSU is Mississippi's leading university, available online at www.msstate.edu.