Contact: Sarah Nicholas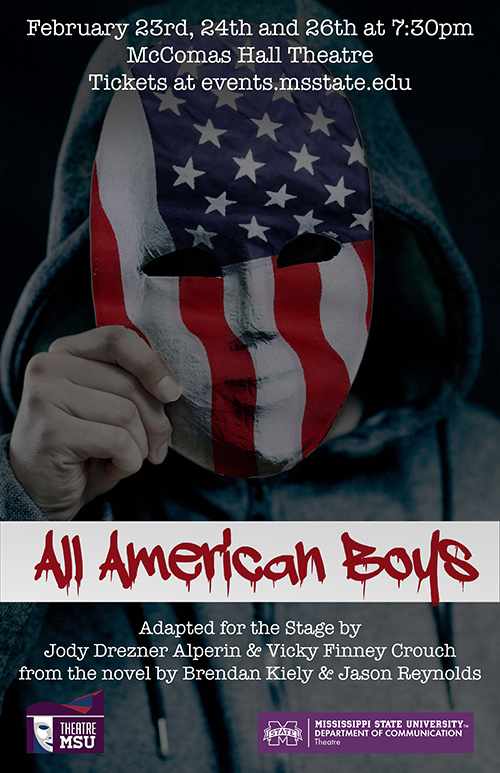 STARKVILLE, Miss.—Mississippi State's Theatre MSU—the Department of Communication's production division that received a 2021 School of Excellence Award in Higher Education from Mississippi for Arts Education—debuts its spring season this month.
A play about a Black teenager's arrest, the white teenager who witnesses it, and the impact on their communities, "All American Boys" will be performed February 23, 24 and 26 at 7:30 p.m. on the McComas Hall main stage.
Admission is $10. Tickets are available at https://msstate.universitytickets.com.
The third of its four annual mainstage productions, Theatre MSU's presentation of "All American Boys" is based on a novel by Jason Reynolds and Brendan Kiely and is adapted for the stage by Jody Drezner Alperin and Vicky Finney Crouch.
The play follows the events of the violent arrest of Rashad for a theft he didn't commit. His white classmate, Quinn, witnessed the attack and arrest, but the police officer who made the arrest is a close friend to his family. Rashad and Quinn's perspectives alternate throughout this adaptation of the acclaimed novel, as the two young men work through a complex web of family loyalties and community ties to find a way to take action.
"One of the key messages in the show is consciously taking the steps to acknowledge the suffering of others and how difficult life can be for minorities, specifically African Americans, due to racism and prejudices," said Vernell L. "Lee" Allen, a senior communication major who serves as the production's director. "I hope people are moved to take action."
The Brookhaven native said the play's message is to "give everyone the opportunity to be treated like humans—to be treated how you personally want to be treated."
Also this spring, Theatre MSU will present "Once on This Island," winner of the 2018 Tony Award for Best Revival of a Musical. The April production follows the tale of Ti Moune, a fearless peasant girl in search of her place in the world and ready to risk all for love. Guided by the mighty island Gods, Ti Moune sets out on a remarkable journey to reunite with the man who captured her heart.  
Auditions for "Once on This Island" are Feb. 8 and 9 from 6-8 p.m. in McComas Hall.  For more information, contact Tonya Hays, theater concentration coordinator and assistant professor, at thays@comm.msstate.edu.
"Once on This Island" will be presented April 6-9 at 7:30 p.m. and April 10 at 2:30 p.m. on McComas Hall's main stage. For more, visit  www.comm.msstate.edu/events.  
Part of the College of Arts and Sciences, the Department of Communication is available online at www.comm.msstate.edu.
Follow Theatre MSU on Facebook, Twitter, and Instagram @TheatreMSU.
MSU is Mississippi's leading university, available online at www.msstate.edu.