Contact: Sasha Steinberg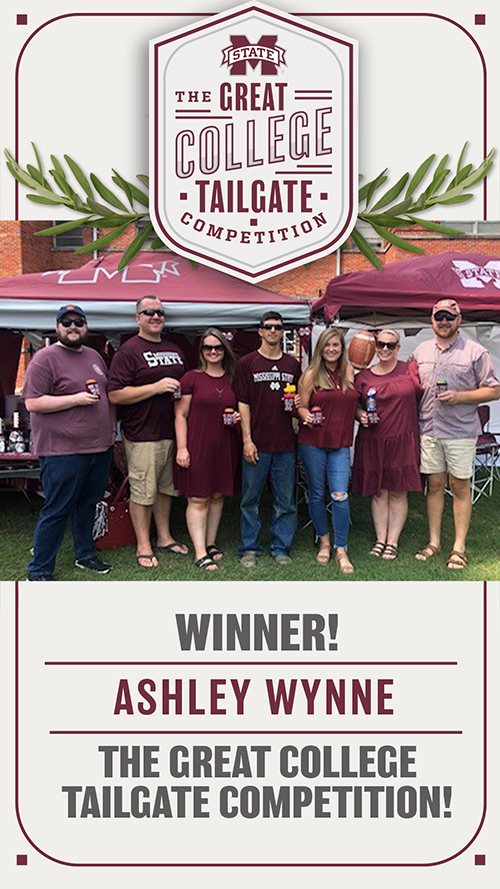 STARKVILLE, Miss.—Ashley Wynne, a two-time Mississippi State graduate and passionate Bulldog fan residing in Greenville, South Carolina, has been named the winner of the Collegiate Licensing Company's inaugural Great College Tailgate Competition.
Wynne, whose entry beat out nearly 100 others from across the country, will receive a trip to a college bowl game of her choice and tailgate prize packs, including merchandise from top fan gear licensees LOGO Brands and WinCraft Inc.
Fans were asked to showcase their tailgates through photos, videos and written descriptions of why their tailgate is the best in the nation. Entries were judged on school spirit, creativity and scale of the tailgate, with a fan vote for the finalists.
For more than 12 seasons, Wynne has been hosting family and friends at her "Hail State Tailgate," which features a variety of food and Mississippi State branded products. Her tailgate often incorporates a theme based on the opposing team, such as a huge papier-mâché hog when Mississippi State played Arkansas. 
"We tailgated every game when we were in school, and now that we've all scattered around the country, our tailgate is an annual promise to each other to gather as friends to support our team and keep the tradition alive," said Wynne, who holds MSU master's degrees in chemical engineering and business administration, along with a bachelor's in chemical engineering from the University of Rhode Island.
"Mississippi State is so engrained in our lives—we became friends there, we met spouses there, our kids were born into it—and while we don't need our tailgate to maintain friendships or love for the Bulldogs, it absolutely is one of the best parts of every year, and we look forward to it from the moment the football schedule comes out," Wynne said.
Leah Beasley, deputy athletic director for external affairs, said MSU Athletics is excited to see Wynne representing the Bulldog fan base in such a big way.
"Game day in Starkville is a special experience full of tradition and spirit, and we are pleased to have that recognized on a national level through this competition," she said.
Nicole Armentrout, senior vice president of marketing for CLC, agreed that tailgating is a key part of the college game day experience and said the Great College Tailgate Competition showcases the special ways fans celebrate their teams.
"We are thrilled to present the grand prize to Ashley Wynne of Mississippi State, and we remain committed to working with our partner institutions, licensees and retailers to deliver all the best college branded tailgate products to fans like Ashley who create a great community experience," she said.
In addition to Wynne, others receiving tailgate prize packs include second-place finisher Michael Galati, a Cincinnati Bearcats fan, and third-place finisher Brian Johnson, a fan of the East Tennessee State Buccaneers.
Headquartered in Atlanta, Georgia, CLC is the nation's leading collegiate trademark licensing company with a mission to elevate college brands through insight and innovation. For more, visit https://clc.com.
For more on MSU Athletics, visit www.hailstate.com.
MSU is Mississippi's leading university, available online at www.msstate.edu.