Contact: Sarah Nicholas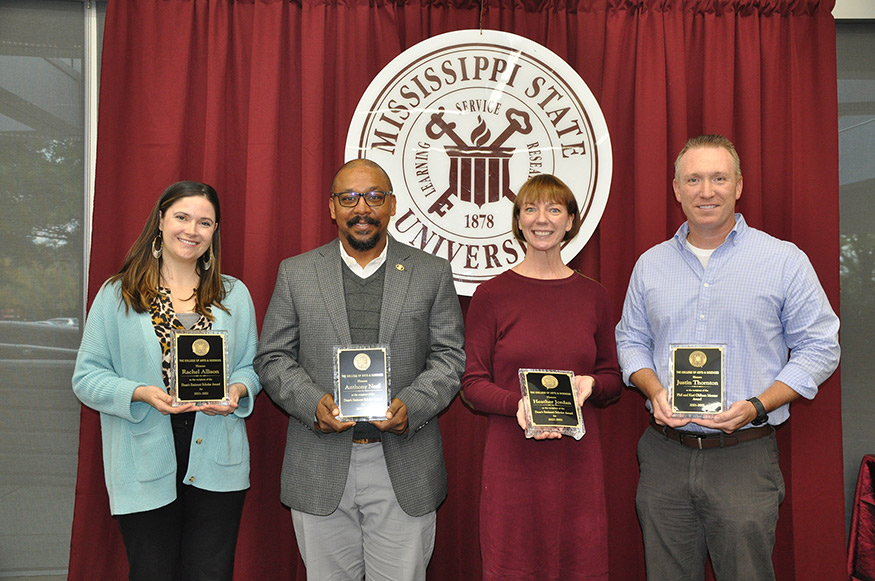 STARKVILLE, Miss.—Mississippi State's College of Arts and Sciences is announcing four new recipients of the Dean's Eminent Scholar Awards honoring "exceptionally meritorious faculty who have achieved national recognition and enhanced the quality and stature of academic programs."
"These faculty members have made excellent contributions to their academic disciplines, and thus to society, through their innovative and internationally recognized scholarship. I'm proud to present awards to these worthy faculty members," said College of Arts and Sciences Dean Rick Travis during the recent college fall faculty meeting.
Honorees include:
—Rachel Allison, assistant professor of sociology, is this year's Gary Meyers Dean's Eminent Scholar. Head of the Department of Sociology Nicole Rader said, "We are so proud of Dr. Allison's accomplishments which have elevated our research stature and contributed to the national and international reputation of Mississippi State. Her many accomplishments include publishing a monograph with Oxford University Press, publishing in leading journals like Gender & Society, and she was the first recipient of the Russell-Sage Foundation Grant Award. She is a top-notch researcher in the sociology department."
—Heather Jordan, associate professor of biological sciences, is the Sanderson Dean's Eminent Scholar. "Dr. Jordan's work is remarkable in its diversity, from fieldwork in Africa tracking the ecology of bacterial water-borne human pathogens to exploring the potential for the use of insects as feedstock," said Angus Dawe, head of the Department of Biological Sciences. "These seemingly unconnected areas are joined by microbiology, and her work is rapidly becoming transformative in how we think about disease as well as how microbes in the gut of insects can affect the potential of sustainable agriculture systems. Her productivity and stature as a researcher nationally and internationally mean this award is fully deserved."
—Anthony Neal, associate professor of philosophy and religion, is the Beverly B. and Gordon W. Gulmon Dean's Eminent Scholar. "Through an impressive number of books, papers and presentations, Dr. Neal has developed a compelling account of what he calls the 'Modern Era of the African American Freedom Struggle' that not only draws upon neglected theorists like Howard Thurman and Huey Newton, but also develops an original account of what it is to experience this struggle for freedom," said Robert Thompson, head of the Department of Philosophy and Religion. "Dr. Neal's outstanding research has gained the attention of scholars working in philosophy and religious studies. In so doing, he has become an important ambassador for the department and MSU."
—Justin Thornton, associate professor of biological sciences, is the recipient of the Phil and Kari Oldham Faculty Mentor Award. "In terms of comments, with 10 years in the department Dr. Thornton has established himself as an outstanding mentor and role model for undergraduate and graduate students," Dawe said. "This is best illustrated by the subsequent success of his mentees. His graduate students have gone on to prestigious postdoctoral programs with one, Lindsey Burcham, recently accepting a tenure track faculty position in the microbiology department at the University of Tennessee in Knoxville. Undergraduates trained in his laboratory also have gone on to health-profession programs all over the country. These successes are what sets Dr. Thornton apart as someone known for setting a high bar, but doing so in a supportive and inclusive environment that allows students to flourish."
MSU's College of Arts and Sciences includes more than 5,000 students, 323 full-time faculty members, nine doctoral programs, 14 master's programs, and 27 undergraduate academic majors offered in 14 departments. It is home to the most diverse units for research and scholarly activities, including natural and physical sciences, social and behavioral sciences, and the humanities. For more details about the College of Arts and Sciences, visit www.cas.msstate.edu.
MSU is classified by the Carnegie Classification of Institutions of Higher Education as an R1-Very High Research Activity doctoral university, the highest level of research activity in the country. The university is one of only 131 schools to hold the designation.
MSU is Mississippi's leading university, available online at www.msstate.edu.