Contact: Addie Mayfield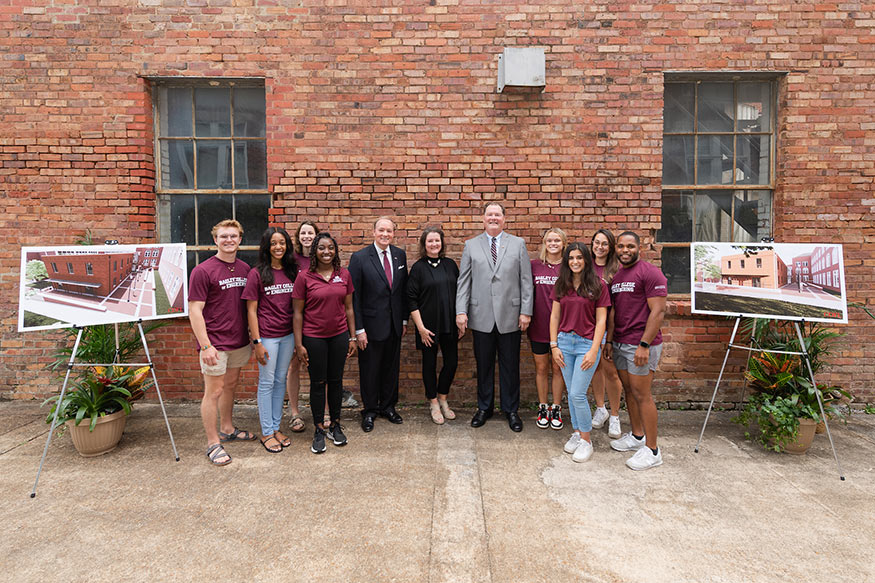 STARKVILLE, Miss.—A generous commitment from Randy and Nina Cleveland of Fort Worth, Texas will benefit engineering students at Mississippi State University through the establishment of a state-of-the-art student services center.
The Randy J. Cleveland Engineering Student Center will occupy the former Materials Testing Laboratory, located between McCain Hall and the Walker Engineering Building. Support from the Texas couple will enable a complete renovation of the historic building, designated a Mississippi Landmark by the Mississippi Department of Archives and History.
Upon completion, the facility will serve as a modernized space to advance collaboration and successful learning experiences among the James Worth Bagley College of Engineering's students, faculty and staff.
"In business and engineering worlds, there are so many things that enable success that aren't necessarily taught in a classroom, like the ability to communicate effectively and work with others as part of a team," said Randy Cleveland. "MSU is unique in many regards, but especially in the hometown feel that is embodied across campus. That environment encourages collaboration and networking, which translates well into the professional industry."
He continued, "This building will provide space to further opportunities for students to grow those critical interpersonal skills." Cleveland has many fond memories of gathering with fellow classmates to study and work on projects and is proud to support the establishment of a center dedicated to such engagements at a convenient location on campus.
Cleveland earned a bachelor's degree in petroleum engineering from MSU in 1983 and began working for Exxon Company, U.S.A. the following year. The Newton County native spent more than 35 years in the oil and gas industry, serving the company in a diverse range of progressive roles at locations across the United States and abroad.
After leading the 2010 merger of XTO Energy into ExxonMobil, Cleveland became president of XTO. He was later named Vice President Americas for ExxonMobil Production Co., a position he held until his retirement from the company in 2019.
Throughout his career, Cleveland has maintained strong connections with MSU and was instrumental in the 2014 reestablishment of the university's petroleum engineering program. He is a member of the MSU Foundation board of directors and also serves on the dean's advisory council for the Bagley College. For his dedicated service and support, Cleveland was recognized as the Distinguished Engineering Fellow for the Bagley College in 2008 and was named the college's Alumnus of the Year in 2019.
Nina Cleveland attended the University of Alabama and is a native of Demopolis, Alabama; however, she shares her husband's "True Maroon" pride and support for MSU. The Clevelands have invested support in areas across campus over the years, taking advantage of ExxonMobil's matching gift program to further their commitments.
In 2015, the couple established the Randy and Nina Cleveland Endowed Professorship in petroleum engineering. The couple also has made generous commitments for scholarships—including an endowed scholarship—as well as for the Bagley College and undergraduate research, among other areas.
"When I step back and think about my time on campus, I realize what I gained at MSU was so much more than just an education—it was the building blocks of how to be truly successful," said Cleveland. "It's always been important to us to give back in support and recognition of those things that helped us be successful."
Renovation on the newly named Randy J. Cleveland Engineering Student Center is expected to begin in the spring.
MSU is Mississippi's leading university, available online at www.msstate.edu.