Contact: Sasha Steinberg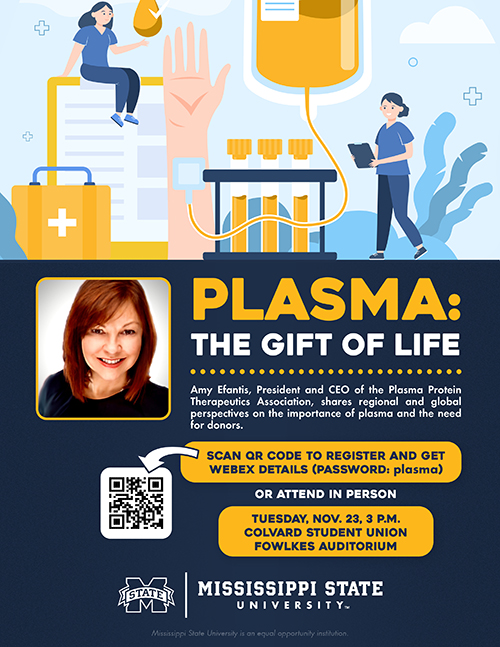 STARKVILLE, Miss.—Mississippi State is welcoming Amy Efantis, president and CEO of the Plasma Protein Therapeutics Association, for a 3 p.m. presentation Nov. 23 in Colvard Student Union's Fowlkes Auditorium.
During her public talk titled "Plasma: The Gift of Life," Efantis will share regional and global perspectives on the importance of plasma and the need for donors.
The presentation also will be streamed via Webex. Visit https://tinyurl.com/a744sh52 and use plasma as the password to register.
Efantis has more than 25 years of experience in executive management, strategic planning, advocacy, operations and public relations. Since 2019, she has collaborated with stakeholders and leadership to guide the strategic vision for the PPTA, which represents more than 860 human plasma collection centers in North America and Europe, as well as manufacturers of life-saving plasma protein therapies.
Before joining PPTA, Efantis served as vice president of global public policy and government affairs at Biogen. Prior to that, she held a leadership role in government affairs and public policy with Boehringer Ingelheim. Efantis began her lobbying career at the Pharmaceutical Research and Manufacturers of America, or PhRMA, following nearly a decade on Capitol Hill.
Efantis holds bachelor's degrees in history and political science along with a minor in African studies from the University of Wisconsin-Madison. Following her undergraduate work, she completed a Professional Program Certification in secondary education and Broad Field Social Studies at the University of Wisconsin-Madison. She served as a high school history teacher before moving to Washington to work on Capitol Hill, where she primarily focused on health care policy.
MSU is Mississippi's leading university, available online at www.msstate.edu.