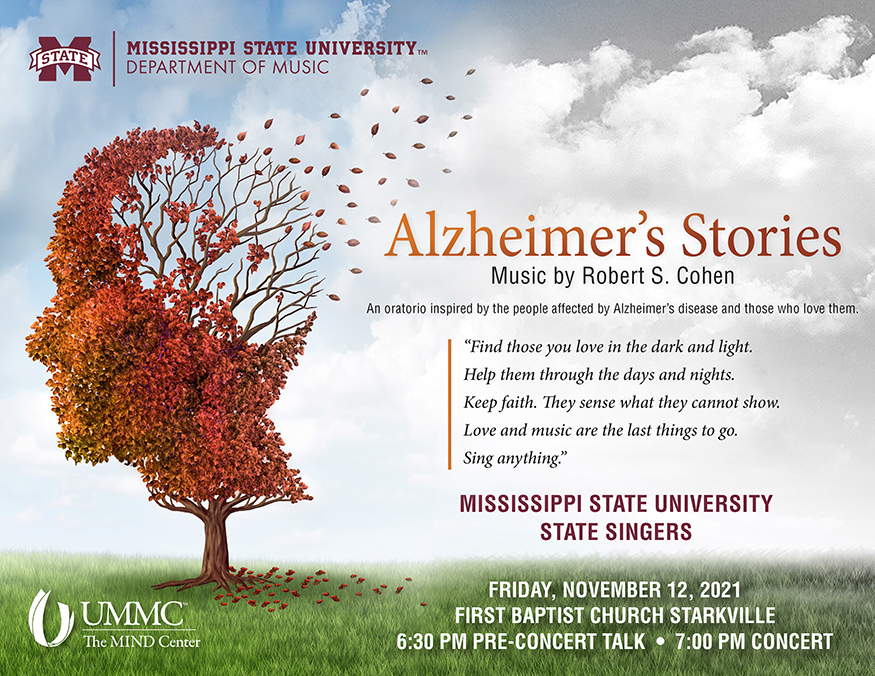 Contact: Madison Welzbacher
STARKVILLE, Miss.—Mississippi State's State Singers are raising awareness for Alzheimer's disease with a Nov. 12 concert dedicated to patients who are currently battling or have died from the disease, as well as family members, caregivers and community members.
The Friday performance will be held at the Starkville First Baptist Church, where a pre-concert presentation will begin at 6:30 p.m., with the concert at 7 p.m.
"Alzheimer's Stories," composed by Robert S. Cohen with a libretto by Herschel Garfein, will be the featured performance at the concert. The work premiered in Pennsylvania in 2009 and runs approximately 30 minutes in length.
"With November being designated as National Alzheimer's Disease Awareness Month, we wanted to provide information, resources and an experience for the public to participate," said Gary Packwood, director of choral activities at MSU. "We expect that this performance will provide our community an opportunity to understand the history of the disease, gain knowledge about resources available, and provide an opportunity for families to grieve, remember and honor their loved ones."
The choral department is partnering with The Memory Impairment and Neurodegenerative Dementia Center at the University of Mississippi Medical Center to present this event. Kathy Van Cleave, director of education and outreach at UMMC's MIND Center, will give a presentation before the concert about Alzheimer's disease and how it impacts patients and their families. She also will be available after the concert to answer questions and share resources.
There will be a dedication page in the program for the concert for anyone who wishes to submit the names of family or friends who are battling or have died from Alzheimer's. There also will be a slide presentation during the concert featuring photos of family members and friends. If you have someone you would like to be featured, please upload names and photos at bit.ly/2ZR8p1M or send an email to msuchoir@msstate.edu.
For more information on MSU's Department of Music, visit www.music.msstate.edu.
To learn more about the MIND Center, visit www.umc.edu/mindcenter/MIND-CENTER-Home-page.html.
MSU is Mississippi's leading university, available online at www.msstate.edu.