Contact: Meg Henderson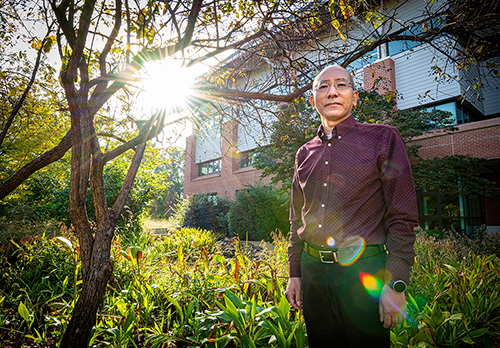 STARKVILLE, Miss.—Understanding how land use limitations imposed by conservation easements impact landowners and the public is the topic of new research by a Mississippi State professor in the College of Forest Resources.
George L. Switzer Professor of Forestry Changyou "Edwin" Sun is receiving a $600,000 grant award from the Agriculture and Food Research Initiative, the USDA's leading competitive grants program for agricultural science.
Sun is receiving the highly competitive award for the research proposal "Economic Analysis of Property Rights Encumbered by Forest Conservation Easements." Collaborating with two economists and a law professor from the University of Georgia, Sun and the research team will scrutinize the legal and economic ramifications of restricting property rights on actively managed forests through conservation easements.
A conservation easement is a legal agreement between a landowner and a land trust or government agency designed to achieve environmental conservation goals by permanently restricting how the owner may use the land.
"The major motivations for each stakeholder are different, but they come together to reach an agreement," Sun said. "For landowners, a conservation easement can provide direct payment or tax benefits. To a conservation institute or government agency, these agreements foster non-market outputs such as carbon sequestration, water conservation or wildlife protection."
For the last three decades, conservation easements have become an innovative and effective instrument to protect forest land held by private owners. As of 2015, 1.75 percent or about 13 million acres of all forest land in the U.S. was permanently protected under a conservation easement. Sun estimates the current number to be about 2 percent.
"The practice of conservation easements has been in place for the last 30 years," Sun said. "However, studies on the economics have lagged behind. That's why we want to do more research."
Sun found that past studies have not fully addressed some important economic questions—having paid little attention to the unique features of working forests—especially irregular and uncertain timber revenues from multiple growth cycles. Likewise, the body of research on conservation easements from a legal standpoint has much room to expand. The grant will allow the researchers to explore these topics in greater depth, applying various economic theories and models to arrive at new knowledge and insight.
MSU's Forest and Wildlife Research Center will analyze disputes between landowners and NGOs or government agencies.
"While the percentage of legal disputes over conservation easements is small, they still number in the thousands," Sun said. "We want to determine what has changed in the landowner-agency relationship and how these disputes have been resolved."
The study's findings then will help the team make recommendations to improve the management of existing easement contracts and the design of future conservation easements.
"Providing better information upfront will prevent pitfalls in these relationships and, consequently, lawsuits down the road," Sun noted.
"We anticipate the application of this knowledge will improve solutions to support forest landowners, improving both environmental conservation and the sustainable growth of forest and rural communities," he said.
For more information on MSU's Department of Forestry in the College of Forest Resources, visit www.cfr.msstate.edu/forestry. Find the Forest and Wildlife Research Center at www.fwrc.msstate.edu.
MSU is Mississippi's leading university, available online at www.msstate.edu.