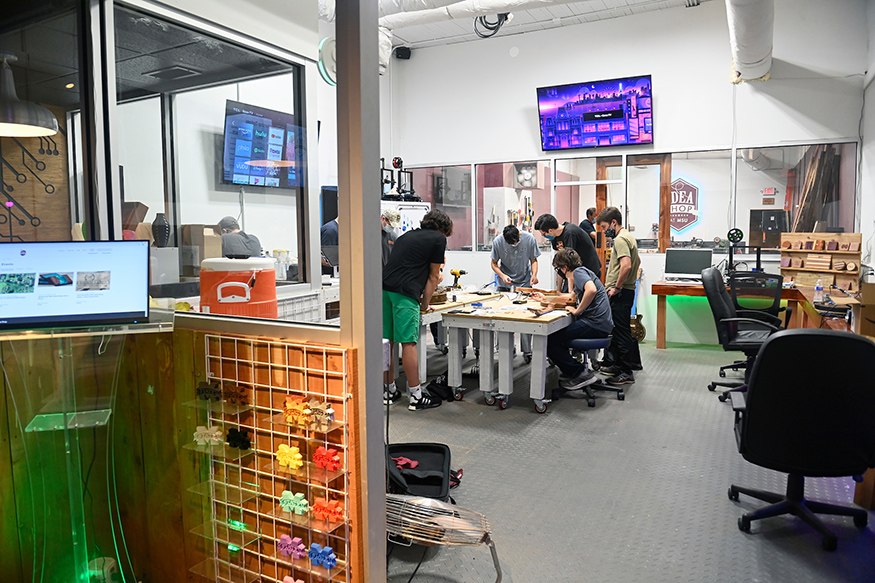 Contact: Harriet Laird
STARKVILLE, Miss.—Mississippi State is among a distinguished international list of 200 colleges and universities named as inaugural Best Maker Schools in Higher Education by Make: magazine and Newsweek news organization.
MSU's 2,000-square-foot Idea Shop is the university's makerspace selected for the recognition, with nominations for the award made by a global community of makers, educators and movement leaders. The creative space, located in downtown Starkville, is a partnership between the School of Human Sciences in the College of Agriculture and Life Sciences and the MSU Center for Entrepreneurship and Outreach, or E-Center, in the College of Business.
"This honor isn't just a win for any one department, it's a win for those involved in the maker movement on campus, the Bulldog family, as well as the entire state of Mississippi," said Eric Hill, E-Center director.
"We've invested in an innovative maker-driven program and makerspace with the Idea Shop," said Hill. "It's a place where not only our students and those in the local area can create and hone their skills, but where there's prototyping and fabrication support for entrepreneurs, and outreach efforts for the community and K-12 education."
The Idea Shop includes the Turner A. Wingo Maker Studio and the MSU Retail Product Accelerator. The maker studio has wood, polymer and metal prototyping equipment, as well as an electronics workbench and design suite. The accelerator helps budding entrepreneurs test market products in a fully operational retail store and gives students experience operating a business.
"I am really proud of this recognition.  Everyone involved has worked tirelessly to make this a university and community-focused facility," said College of Business Dean Sharon Oswald. "However, none of this would have been possible without the generous help of MSU alumni and friends."
According to the Make: magazine and Newsweek Best Maker guidelines, schools on the list demonstrate "excellence and competency" in integrated learning-through-doing orientation; mentoring, guidance and coaching for making; physical facilities; accessible and supportive spaces and tools; and a diverse, active community of makers.
Make: founder Dale Dougherty commented, "Increasingly, makerspaces are seen as essential for students, and not just as an amenity, but for developing the skills and mindset of the next generation of innovators."
Other Southeastern Conference universities listed as Best Makers are Arkansas, Auburn, Florida, Georgia, Texas A&M and Vanderbilt.
MSU's Idea Shop is open to MSU and local community members Monday-Friday, 11 a.m.-6 p.m.; Saturday, 10 a.m.-6 p.m.; and Sunday, noon-6 p.m. More information is available at ecenter.msstate.edu/programs/the-idea-shop/.
MSU is Mississippi's leading university, available online at www.msstate.edu.