Contact: James Carskadon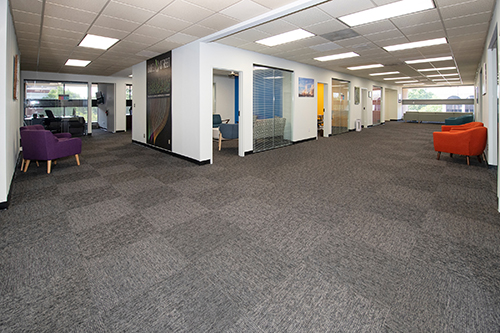 STARKVILLE, Miss.—Renovations are underway in downtown Starkville as Mississippi State University Research and Technology Corporation transforms a former bank building into "The Hub."
The $1.4 million renovation of the 34,000-square-foot building located at the intersection of Main and Jackson streets began July 1 following Cadence Bank's relocation to a new branch on Russell Street. The building investment includes $300,000 in support from the Appalachian Regional Commission. MSU Research and Technology Corp. purchased the building from Cadence in 2019 with the intention of creating a Downtown Innovation Hub.
"We are excited to carry out our vision for this building and further strengthen the town-and-gown relationship between MSU and the city of Starkville," said MSU Vice President for Research and Economic Development Julie Jordan. "The Hub will provide tenants with all the amenities that come with working in a downtown area with the added benefit of being in close proximity to the cutting-edge research and development taking place at MSU. Companies, especially those with younger employees, often want to be in vibrant areas, and Starkville continues to foster a great environment downtown that people want to be a part of."
Babel Street became the building's first tenant in 2019, moving its innovation center into updated spaces on the third floor. With office space in MSU's Thad Cochran Research, Technology and Economic Development Park at capacity, the Innovation Hub provides additional space for companies looking to expand their presence in Starkville or startups looking to call the city home.
"As mayor I am so very delighted that the university has chosen to develop more of its office space downtown," said Starkville Mayor Lynn Spruill. "A vibrant downtown is the goal of any community and this goes a long way to achieve that and to cement the relationship that we value so highly, and that works to the advantage of both the city and the university. The more we find ways to partner, the more opportunities we have for a winning relationship for our future. Downtown is our core and the university is our core business. The additional opportunities for retail and entrepreneurship make it a highly desirable and central location."
Throughout its history, MSU has worked to maintain, reinforce and enrich its town-and-gown relationship with Starkville officials, organizations and businesses. The university recently opened the 2,000-square-foot Idea Shop at 114 East Main Street, as a center for entrepreneurship and innovation. Here, students and community members can take their ideas and plan, create, test and launch businesses.
Local architecture firm Shafer Zahner Zahner worked with MSU Research and Technology Corp. to create a design that turns the former bank space into office suites with modern amenities. Craddock Construction is the contractor for the project.
For more information about The Hub, contact MSU Research and Technology Corporation at 662-325-9575.
MSU is Mississippi's leading university, available online at www.msstate.edu.