Contact: Addie Mayfield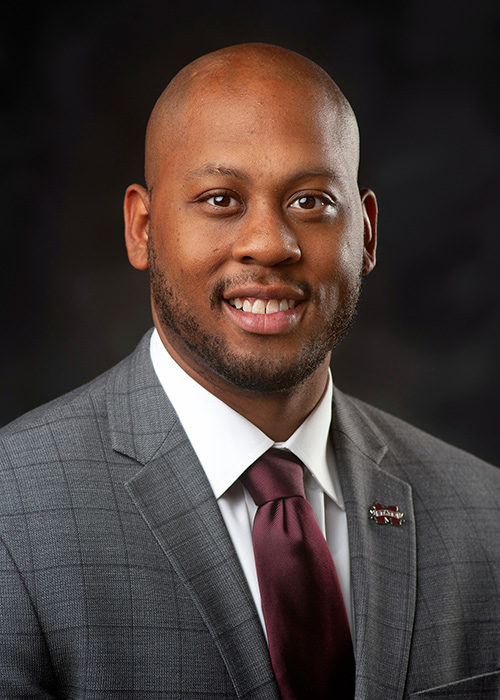 STARKVILLE, Miss.—Alvin Franklin of Jackson has joined the Mississippi State University Foundation staff as assistant athletic director for development.
In his new role, Franklin serves as a liaison between MSU Athletics and the MSU Foundation as he works to secure major gifts for both organizations. He began his duties on July 1 alongside veteran fundraisers and associate athletic directors of development Stephen Foshee and Rob Jenkins.
Franklin served as a graduate assistant for Bulldog Athletics while pursuing his master's degree in kinesiology and sport administration at MSU from 2015-2016. Prior to attending MSU, he played collegiate baseball at Meridian Community College and at Jackson State University, where he earned a Bachelor of Business Administration in economics in 2015. He also holds a second master's degree in higher education with a focus in college administration and leadership, which he earned from Purdue University Global earlier this year. 
In 2016, Franklin began his career in athletics at Hinds Community College. Employing his former experience in baseball as a student athlete, he held a joint role as assistant coach and recruiting coordinator for the Hinds baseball program and as the sports information director for the school's athletic department.
He later transitioned into progressive roles in athletic fundraising and development, serving first as athletic development associate at the University of Alabama-Birmingham, and later as assistant director of athletic development at the University of South Alabama. Before returning to MSU, Franklin managed a large major giving portfolio across the southeastern U.S. and assisted with external revenue and communication strategies as director for athletic development for major gifts at Purdue University.
Adding to his resume and MSU connections, Franklin also has been an active member of the National Association of Athletic Development Directors (NAADD) since 2015 and became an inaugural member of the NAADD Diversity Working Group sub-committee upon the group's creation in 2020. Through this, Franklin is helping to build a support network for minorities in collegiate athletics development through education, advocacy and awareness. He also was selected to attend the NCAA Emerging Leaders Seminar in 2016.
"Alvin's experience as a student athlete combined with his fundraising skills makes him a perfect fit for this role," said Jack McCarty, executive director for development for the MSU Foundation. "We are so proud to welcome him back home to Mississippi where he will be working with the generous alumni and friends of MSU athletics." 
A second-generation Bulldog, Franklin's parents Alvin and the late Quoinsetta Watts Franklin, met on campus in the 1970s and maintained strong connections with the university over the years. His father is a 1979 graduate of the MSU College of Business and a current Bulldog Club board member.
Upon his mother's death, Franklin joined his father and sister in creating a gift to support MSU athletics, which also carried a naming opportunity. As a result, a banner bearing his mother's name now hangs in Davis Wade Stadium near the season-ticket seats the Franklin family has occupied for many years.
"Having the opportunity to pursue my career at the university that means so much to my family and me is such a blessing," said Franklin. "I love what I do because of the positive impact it has on student athletes, and I'm proud to be a part of growing that impact at Mississippi State."
Franklin's office is located in the Bryan Athletic Administration Building, and he can be reached at 662-325-1244 or afranklin@athletics.msstate.edu.
For more information on the MSU Foundation, visit www.msufoundation.com. MSU is Mississippi's leading university, available online at www.msstate.edu.