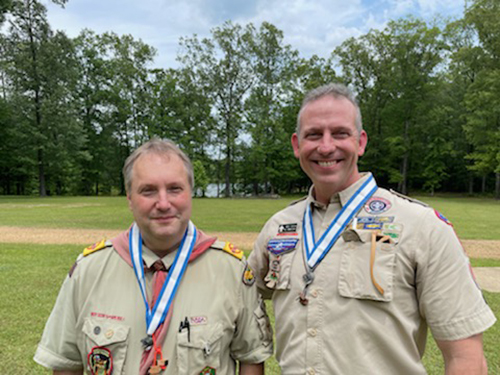 Contact: Sasha Steinberg
STARKVILLE, Miss.—Mississippi State employees Gerhard Lehnerer and Brent Fountain are both receiving the Silver Beaver Award, the highest volunteer honor given by the Pushmataha Area Council, Boy Scouts of America.
The awards were presented at the council's recent annual recognition event at Camp Seminole in Starkville.
"The Silver Beaver Award is the highest honor afforded adult Scouters by the Scouting program," said MSU Chief Communications Officer Sid Salter, a prior winner of the award. "Both Brent Fountain and Gerhard Lehnerer have served the Scouting program in the Pushmataha Area Council ably and well for many years and are most deserving of this honor. Their distinguished service to Scouting is in keeping with their professional service here at MSU."
Lehnerer and Fountain both earned the Eagle Scout Award in their youth and have been longtime volunteers with Cub Scout Pack 14 and Scouts BSA Troop 14, chartered to the Starkville Rotary Club.
Lehnerer is director of information technology infrastructure for MSU's Information Technology Services. He has volunteered at various Cub Scout programs, adult leader trainings, fundraising events and summer camp programs at Camp Seminole. In addition to his BSA involvement, Lehnerer serves as a Girl Scout cookie sales volunteer and is an animal rescuer.
Fountain, former president of the Robert Holland Faculty Senate, currently serves as MSU's associate vice president for academic affairs and interim director of the MSU Career Center. A faculty member in the Department of Food Science, Nutrition and Health Promotion, he has served in various roles for the Pushmataha Area Council since 2006, leading Scouting trips, chairing fundraising programs and assisting with adult leader training events. Since 2018, he has been a member of the council's executive board and currently serves as council commissioner. A member of First Baptist Church in Starkville, Fountain has been active with the Starkville Rotary Club since 2000 and served as its president in 2013.
Established in 1925, the Pushmataha Area Council, Boy Scouts of America, provides character development and skills training to Scouting units in 10 counties of North Mississippi. For more information, contact Jeremy D. Whitmore, scout executive, at 662-328-7228 or jeremy.whitmore@scouting.org.
MSU is Mississippi's leading university, available online at www.msstate.edu.