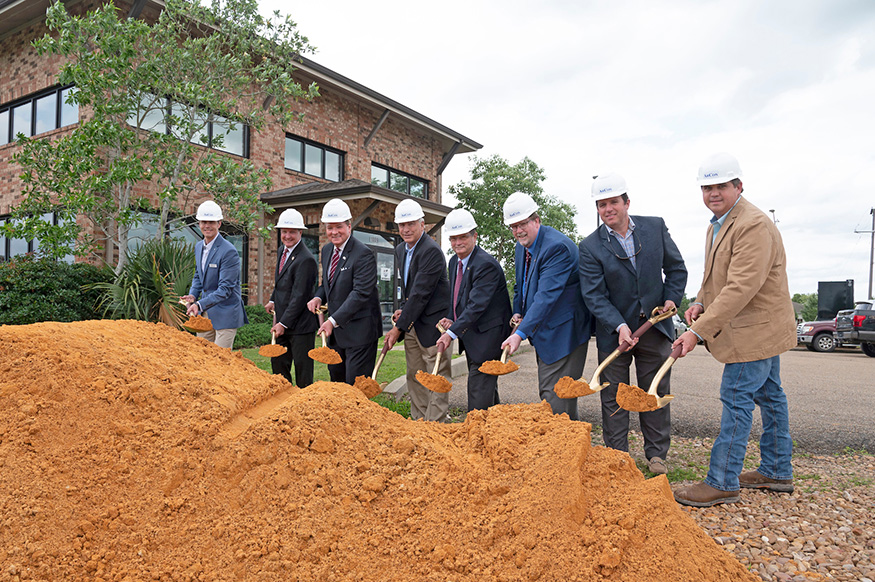 Contact: Mel Thurlow
FLOWOOD, Miss.—Expansion of the Animal Emergency & Referral Center (AERC), a Flowood satellite clinic of the Mississippi State University College of Veterinary Medicine, officially began with a groundbreaking ceremony today [May 19].
The $5.6 million, 14,000-square-foot addition will include a much-needed increase in clinical space for staff and students to render emergency and referral services, as well as shelled space for a future residential area for students. A conference room for teaching and outreach programs for the local veterinary community also is part of the plan. The AERC's animal rehabilitation center, currently located in leased space a few blocks away, will move onsite through the project as well.
Bradford A. Jones with Machado Patano Design Group in Biloxi is the design professional for the facility, and Madison-based ARCON Group is the general contractor.
According to MSU CVM Assistant Dean for Clinical Services Dr. Joey Burt, the project is required as a result of the continued growth of the practice, as well as to better serve clients and university veterinary students.
"This expansion is critical for the AERC's continued success; we have simply outgrown our existing facilities," Burt said. "Having all our services in one location will be a benefit to our patients, practitioners, clients and students. It's a win-win for everyone involved."
The project has been designed to allow the AERC to remain fully functional throughout the construction process, with no anticipated interruption of service to referring veterinarians or their clients, while maintaining training for CVM students.
"The services provided at AERC are vital to scores of pets and their owners in the region, so our goal is for construction to take place while operations proceed as usual," Burt said.
Dr. Kent Hoblet, dean of MSU's College of Veterinary Medicine, said the project is a continuation of the original goal conceived by nine Jackson-area veterinarians in 2007, when they approached the CVM administration about partnering with the college for enhanced emergency and specialty care for pets and to increase opportunities for student learning.
"MSU CVM is forever grateful to these individuals for the role they played in making the AERC a reality. The clinic has provided an invaluable learning opportunity for more than 900 MSU Doctor of Veterinary Medicine graduates—not counting veterinary medical technology students—who have completed rotations there since it was established, while providing emergency and specialty referral care to countless animals in need," Hoblet said.
"Expansion of the AERC will further MSU CVM's mission of improving the health and well-being of companion animals and providing outstanding, hands-on training for our students."
The project is scheduled for completion in summer 2022.
For more about the AERC, visit https://www.vetmed.msstate.edu/clinics-locations/emergency-referral-center.
MSU is Mississippi's leading university, available online at www.msstate.edu.