Contact: Sasha Steinberg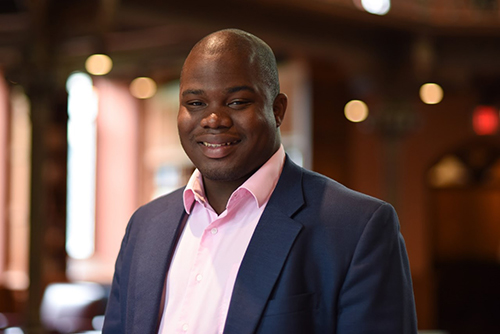 STARKVILLE, Miss.—Since its inception, the J. William Fulbright Foreign Scholarship Program has provided grants to more than 390,000 distinguished leaders, from Nobel Laureates to Pulitzer Prize winners. Mississippi State political science graduate Semaj C. Martin-Redd of Brandon is officially joining the prestigious Fulbright ranks next year, and he couldn't be more excited.
"I credit Mississippi State and the incredible faculty who supported me as I applied for this exciting opportunity. I've been able to do great things at the university and that's because, from the top down, there's an emphasis on student success," said Martin-Redd, who learned of the Fulbright program through the MSU Judy and Bobby Shackouls Honors College Office of Prestigious External Scholarships. "As an English Teaching Assistant in Hamburg, Germany, my goal is to share that experience with students and bring awareness about U.S. culture as it pertains to the South."
Considered the world's largest and most diverse international educational exchange program, Fulbright is devoted to increasing mutual understanding between citizens of the U.S. and other countries through open communication and long-term cooperative relationships.
The Fulbright grant is made possible through funds annually appropriated by the U.S. Congress, as well as contributions from partner countries and private parties. The U.S. Department of State's Bureau of Educational and Cultural Affairs oversees Fulbright program operations globally.
Since graduating summa cum laude from Mississippi State in May, Martin-Redd has been in Washington D.C. serving as a full-time staff assistant for U.S. Rep. Trent Kelly (R-Miss.). If travel is deemed safe, Martin-Redd plans to begin his Fulbright experience in January 2021.
"Dr. (David) Hoffman in the Office of Prestigious External Scholarships provided feedback for drafts of my written statements, and Drs. (Thessalia) Merivaki and (Vasabjit) Banerjee in political science and former Residence Hall Director Kevin Frazier wrote great recommendation letters," Martin-Redd said. "Dr. (Edward) Potter, who was my German teacher for most of my time at Mississippi State, did my language evaluation. He was one of the best teachers I've ever had. He really cares, and he's the reason I minored in German. He also made me excited about Fulbright when I talked with him about it."
Recognition as a Fulbright finalist is one of many honors Martin-Redd garnered as an MSU student. The Phi Beta Kappa inductee was named the university's fourth finalist in eight years for the prestigious Rhodes Scholarship in 2019.
He also earned the College of Arts and Sciences' Hunter Henry Undergraduate Excellence Program Scholarship; the Department of Political Science and Public Administration's Morris W.H. Collins Scholarship and Dr. Charles E. Menifield Public Service and Leadership Scholarship; and the Ed Gillespie Award from the Department of Housing and Residence Life.
Martin-Redd thrived in various MSU leadership roles, including MSU College Republicans organization president, Resident Advisor Association president, and co-director for the Student Association Cabinet's Community and Governmental Relations Committee. Also an active member of the Mississippi Model Security Council, he was a 2019 selection for the Public Policy and International Affairs Junior Fellowship and participated in the Junior Summer Institute at Princeton University's Woodrow Wilson School of Public and International Affairs.
That experience, he said, enhanced his understanding of international relations and inspired his interest in applying for a cultural exchange program. With opportunities for personal and professional growth on a cultural level, Fulbright's English Teaching Assistantship sounded like the perfect chance "to give back to the global community." Martin-Redd said he wants to "use power to help people" as former President George H.W. Bush encouraged in his 1989 inaugural address. In doing so, he hopes to honor another of his biggest heroes.
"I want to make my mom proud because she's invested so much into my brother and me," he said of his adoptive mother. "Fulbright is an exciting opportunity for me to do my part as a global citizen to educate people and use a human element like Southern hospitality to uplift those who have had a hard experience. That's my motivation for working in public policy—helping people from all backgrounds make their lives better."
David Hoffman, associate professor in MSU's Department of Anthropology and Middle Eastern Cultures and interim director of the Shackouls Honors College Office of Prestigious External Scholarships, said Martin-Redd's selection marks the second time in MSU history that the university has had multiple Fulbright finalists in a single year. MSU English graduate Joy Cariño of Starkville also was named a Fulbright finalist in May.
"Our office is dedicated to facilitating applications of all MSU students for competitive scholarships and fellowships such as the Fulbright, and coaching Semaj through the Fulbright application was really a pleasure," Hoffman said. "While going through numerous drafts of his essays together, I was able to get to know Semaj and his unique story, and it was a lot of fun to find out how and why he became interested in the German language and Germany. He was able to leverage his experience as a Public Policy and International Affairs scholar, MSU faculty-led study abroad experiences, as well as his language study at MSU into a successful application to the Fulbright English Teaching Assistant program in Germany."
Learn about the Judy and Bobby Shackouls Honors College at www.honors.msstate.edu and the College of Arts and Sciences and the Department of Political Science and Public Administration at www.cas.msstate.edu and www.pspa.msstate.edu.
MSU is Mississippi's leading university, available online at www.msstate.edu.