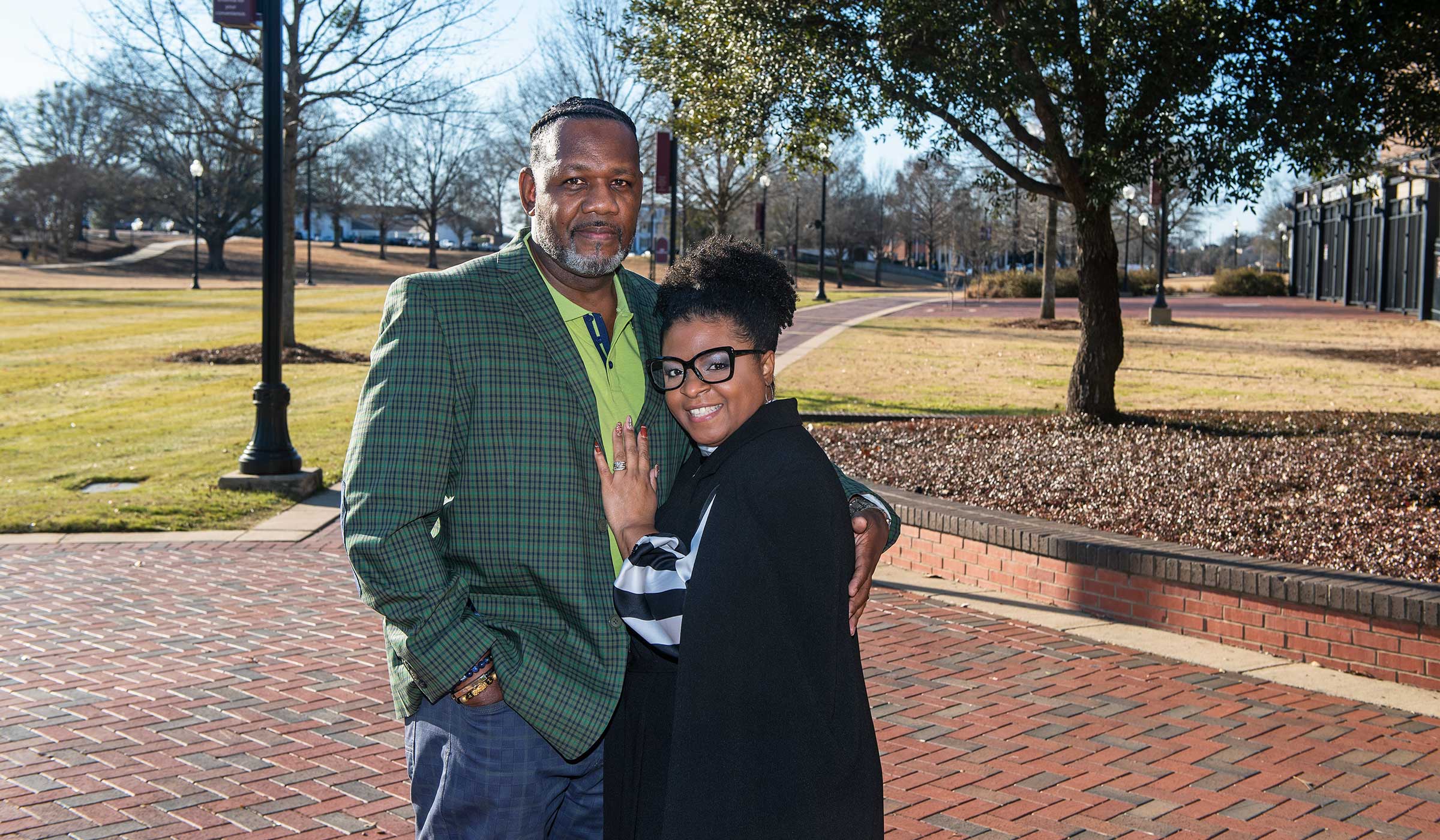 For a couple that has been together more than 32 years, Valentine's Day is just another opportunity to enjoy each other's company.
Stephen and Angela Latham met in the late 1980s during their days in the U.S. Army, training at Fort Bragg, North Carolina. Stephen, a Columbus native, drove trucks, and Angela, who hails from New York, worked planning transportation routes. Though Angela did not find Army life a good match for her personality, the couple reflected that it "worked out pretty good" since it brought them together.
The couple married in 1990, not long before Stephen deployed to serve in the Gulf War, while Angela, who was pregnant with their son, stayed stateside.
After military service, they visited family members in Columbus while traveling through the area on a trip to Texas. What was supposed to be a brief visit in 1992 turned into a more permanent move to the Golden Triangle so the couple could enjoy living near family.
Their affiliation with Mississippi State first began when Angela enrolled to study interior design, and she earned her bachelor's degree in 2007. The family moved to Atlanta for a couple of years, but Angela returned to MSU to earn a master's degree in architecture in 2011, and then she completed a second bachelor's degree in graphic design in 2013.
"Honestly, teaching was never on my radar," said Angela, now a faculty instructor in the Department of Art. When she joined the university, originally teaching about the Arts and Crafts Movement in the Department of Instructional Systems and Workforce Development, she taught four classes each semester and tailored the studio-based curriculum into a course that she loved teaching and her students also really enjoyed.
"I made it in to my baby," she said of the course.
In 2020, she transferred from ISWD to the art department, taking the class along with her but making several changes.
"I really feel so at home at the university, and being in the College of Architecture, Art and Design, which was also my home college as a student, is very fulfilling," she said.
While Angela began her MSU scholarship much earlier, Stephen worked at a Columbus industry for a decade before doing over-the-road trucking for many years. But being away from home so frequently eventually led to some burnout.
His first position with the university involved a community outreach project that operated a mobile library, lending books, toys and games to children across the state. His current position also involves MSU's outreach mission. As an inventory associate with MSU Extension's Nutrition Education, Stephen ensures that Extension agents in all 82 counties across the state have access to supplies they need in conducting educational activities about how to prepare healthy foods.
"When you have good people that you work with, you don't mind coming to work every day," Stephen said. "It also makes a difference when you're doing something that's helping someone else."
When the Lathams have a chance to relax, they agree one of their favorite things to do is savoring a delicious meal. They love cooking and dining so much that they worked together to construct an outdoor kitchen at their home.
Angela said that's another thing that makes their relationship sweet. "I like that we can work together on a lot of different things," she said.