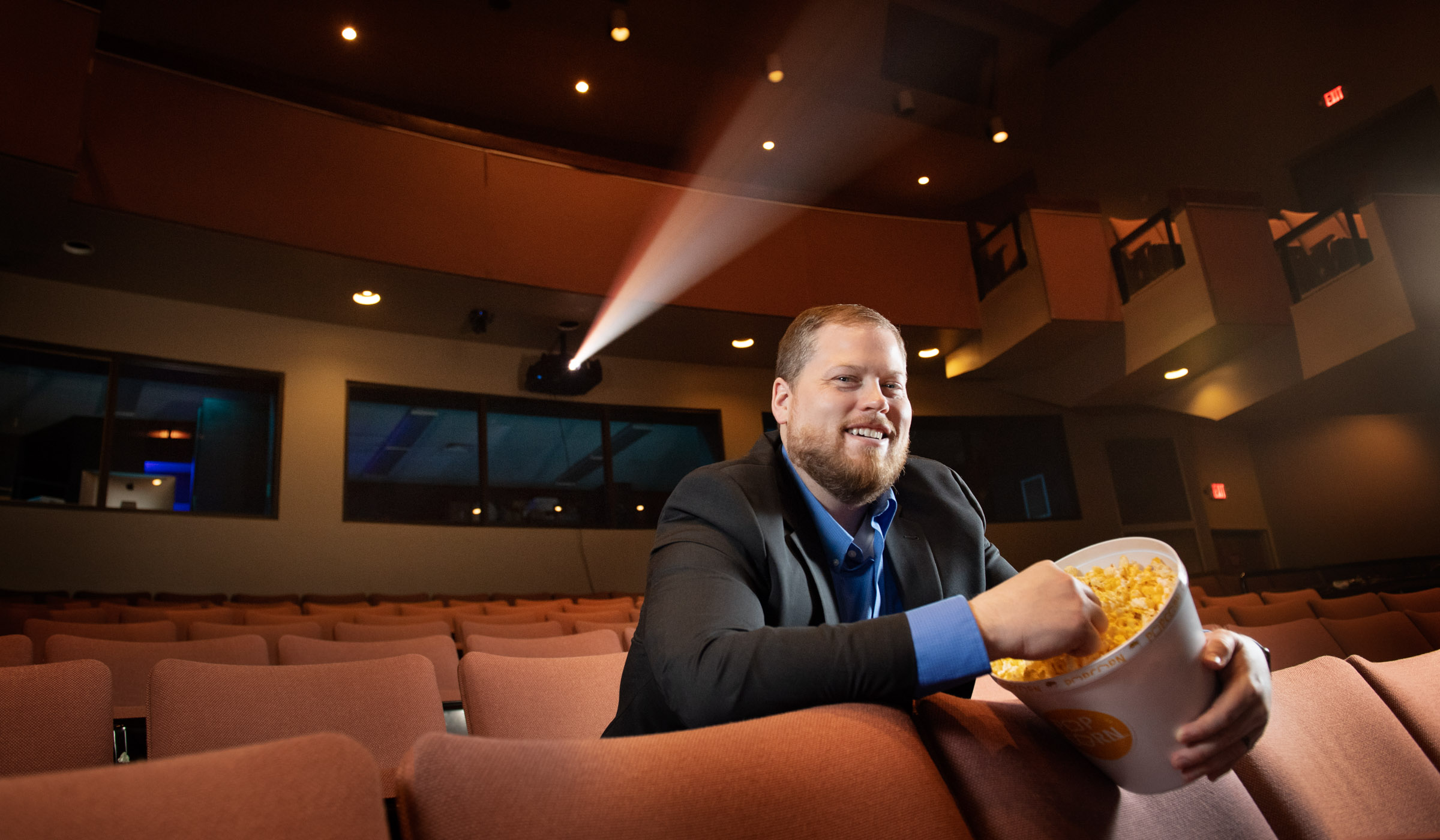 "I enjoy the interaction with students and having that moment of seeing them 'get it' with concepts related to video production," said Christopher "Chris" Misun, a broadcast instructor with MSU's Department of Communication.
The Ashland, Wisconsin, native began consulting with the MSU-Meridian Campus in 2014 and began teaching a class there the next year. He soon transitioned to Starkville, accepting a senior producer position at MSU's University Television Center. He was asked to teach one section of Advanced TV Production, which he said solidified his desire to parlay his technical knowledge and skills into the classroom. When a full-time instructor position with the communication department opened in 2019, Misun jumped at the opportunity.
Misun earned an associate's degree in film and video production, a bachelor's in entertainment business and a master's in new media journalism, all from Full Sail University in Winter Park, Florida. He envisioned his future as a media producer before discovering his passion for sharing knowledge with students.  
"Having that daily interaction with students and getting to mix entertainment with the information is a great time for me. My students know me for keeping the classroom fun and informative and that is my continued goal," Misun said.
This fall he will offer a sports broadcasting production course which will partner with Hail State Productions' Broadcast Operations to give students internship opportunities.
Misun works with Take 30 News, the capstone course for the communication department's broadcast concentration, and teaches other MSU broadcasting courses. He is working toward another master's degree at MSU in instructional technology with an emphasis in multimedia to go along with the first one he obtained in 2012. He also works for Hail State Broadcast Operations.
"It feels like cheating to say that one of the jobs I perform on campus is also a hobby, but working with Hail State Broadcast Operations and being a camera operator is such a rewarding experience in its own right," said Misun, explaining that he typically operates the "hero"—the camera which takes close-up shots of players after making shots or big plays.
"To be a part of these big moments in MSU sports is such an amazing time."
His extensive academic knowledge of the film and television world has led to another venture in the film festival realm. Misun is the director of the 25th annual Magnolia Independent Film Festival, happening this week in Starkville.
"The Mag," as it is affectionately known, is the first and longest-running film festival in the state and seeks to bring distinctive, independent cinema to the Golden Triangle area.
Misun said he enjoys spoiling his 6-year-old son, Parker, with behind-the-scenes views of MSU games. His wife, Kaci, works as an office associate in the MSU Foundation's annual giving division.