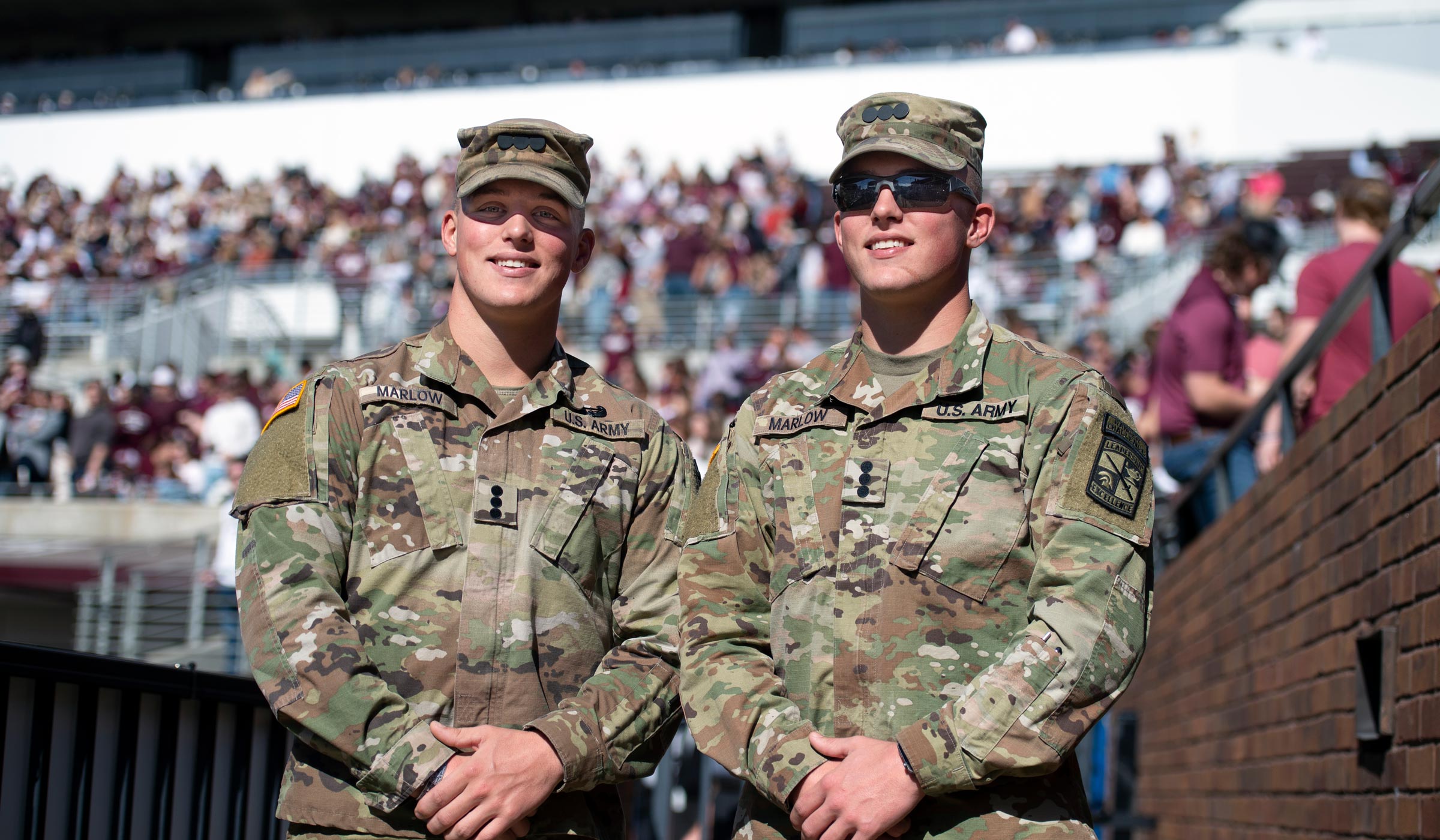 Colby (left) and Cade Marlow represent MSU's Army ROTC program during a football game at Davis Wade Stadium.
IN MEMORIAM:
Colby L. Marlow, an MSU senior, died in an automobile accident on Nov. 22, 2021, at the age of 21. This previously scheduled article is being published in memoriam and at the request of his family. The family is working with the MSU Foundation to establish a scholarship in his memory. Learn more at https://mailchi.mp/cd00dc0f5cca/colby-marlow?fbclid=IwAR1rsQE_yJnGtMPGa4x7tnpjqYw0MGLFo-8Ns_2LKPN13tyTJ4C3qe0cTPs
"The opportunity to serve my country, be a leader in the United States Army, and be a small part of protecting the United States of America motivates me to always push myself to stay ready for whatever the future may hold," said Colby L. Marlow. His fraternal twin Haley "Cade" Marlow echoed the same sentiment—"A motto I recall often is 'pain is temporary, pride is forever.' This phrase motivates me to be persistent and work hard in all that I do."
The brothers, seniors from Carrollton, transferred from Holmes Community College to MSU in the fall of 2020 to join MSU's Army ROTC program and major in criminology with a minor in military sciences. Choosing MSU was an easy "yes" for both men, who grew up coming to sporting events at the land-grant university and admiring the Army ROTC program.
Though closely connected through the "twin bond," the brothers came to MSU together not because of that bond, but because they both have similar checkpoints along the path to their long-term goals.
"MSU happens to be one of those checkpoints that we reached simultaneously. We also are both independent and experience positive competition between ourselves in many of the things we do," said Cade.
Both intend to use their Army ROTC training to attend the Infantry Basic Officer Leader Course with the U.S. Army after graduation in May 2022 and eventually find careers in law enforcement.
"I plan to apply to the Mississippi Highway Patrol and start a career within the agency. I will always do my best to help develop and lead others around me," said Colby.
Cade, too, aspires to work for the Mississippi Highway Patrol, serving the citizens of Mississippi by utilizing his educational and military experience.
"I will continue my service in the Mississippi Army National Guard as a commissioned officer. I aspire to always pursue additional training and educational opportunities that will aid in my overall development as a leader. After gaining experience in local/state law enforcement and the military, I hope to have the opportunity to work for a federal law enforcement agency," said Cade.
Both Marlow men will finish at MSU this spring as "distinguished military graduates"—a feat awarded to the top 10% of Army cadets in the nation.
"The motivation and discipline that my grandfather, CSM (Command Sergeant Major) Johnny Marlow, instilled in me ultimately drives me to be the best that I can be in everything that I do," said Colby. "The opportunity to continually develop myself and accomplish my goals is motivation in itself. Growing up, my mom always held me to the highest standard when it came to academics, and that same expectation has carried over with me individually into many other aspects of my life."
Cade said, "I find my greatest motivation in focusing on my long-term goals. My family, along with many friends, motivate me to continue striving each and every day to be the best version of myself."
While at MSU, both have maintained a 4.0 grade point average, have been members of Phi Kappa Phi Honor Society, the Ranger Challenge Team, Army ROTC Bulldog Battery, Color Guard and Student Veterans Association.
The Marlows both point to Master Sergeant Gerardo Duran, a senior military science instructor for the Army ROTC program, as a main driving force of encouragement for them personally and professionally.  
"I have been positively influenced by many of my professors and ROTC cadre," Cade said. "However, MSG Duran has impacted me the most. MSG Duran has served in the U.S. Army for nearly 20 years and has proudly represented the infantry branch throughout his career. On my initial visit to the MSU Army ROTC program, I met MSG Duran, and I immediately recognized the high level of confidence that he portrayed. Once the physical training sessions started in the fall of 2020, my attention was drawn to the constant motivation, positivity and encouragement he displayed at these PT sessions. As the semester progressed, I began sharing my interests and goals with him and, without hesitation, he began mentoring me. He offered an abundance of advice regarding my military career and goals as well as personal advice. I feel that MSG Duran provided me with many valuable assets that will contribute to my future success."
"MSG Duran has influenced me the most since being at MSU," Colby said. "His motivation, discipline and drive has helped me to develop as a soldier, a leader and a person. I strive to provide the same type of motivation and discipline for the soldiers that I lead in the future."