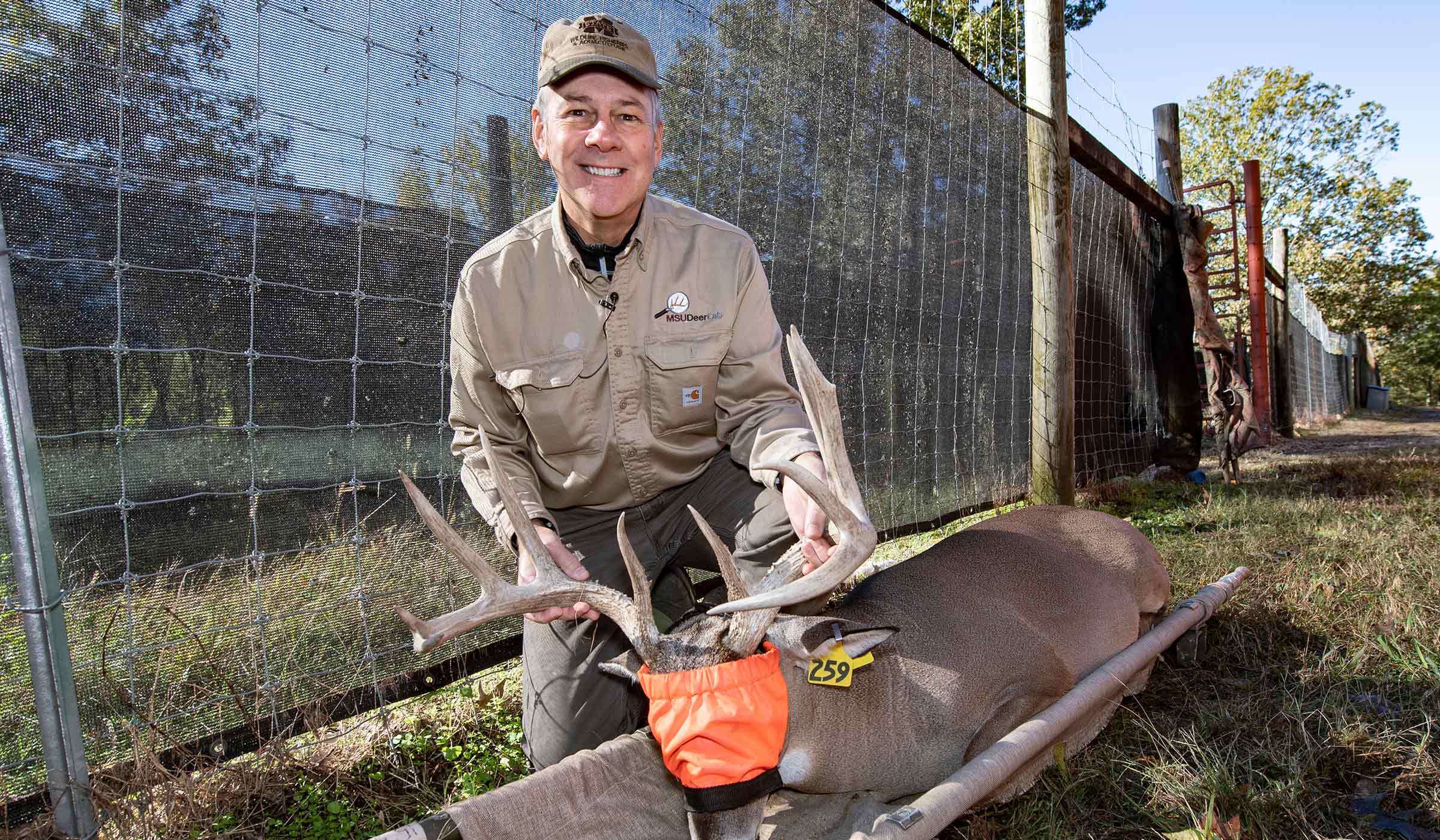 Steve Demarais, MSU Deer Lab co-director and the Taylor Chair in Applied Big Game Research and Instruction, has been fascinated with white-tailed deer since high school.
"I've been an enthusiastic deer hunter since my teens and harvested my first deer while in college," he said.
The Attleboro, Massachusetts, native developed a love of wildlife at a young age.
"I grew up enjoying hunting and fishing and also enjoyed biology in high school, so it was natural to major in wildlife biology in college," he said. 
After earning a wildlife degree from the University of Massachusetts, he headed south as one of the MSU deer program's first graduate students, earning a master's in wildlife ecology and a forest resources doctoral degree, in 1979 and 1984, respectively. After 15 years researching and teaching in Texas, he joined the MSU faculty in 1997, helping shape the MSU Deer Lab into the nationally known research program it is today.
"I am proud every day that I can work with graduate students to learn something new and share it with stakeholders to improve their understanding of deer biology and population management," Demarais said. "If deer biologists, landowners and hunters are paying attention to the work we're doing then we're on the right track—that's what matters most."
Demarais noted three recent awards as among the most meaningful of his career—the 2021 Caesar Kleberg Award of Excellence in Applied Wildlife Research from the Wildlife Society and the 2018 Deer Management Career Achievement Award from the Southeast Deer Study Group, as well as the Boone and Crockett Club's Conservation and Stewardship Award that the MSU Deer Lab received in 2020.
"The deer management award was given by other deer biologists; the Boone and Crockett Club award is from the oldest conservation club in North America; and the Kleberg award is my professional society recognizing people who do things that matter to land management. Those three awards are very meaningful to me because they tell me I've been doing the things I should be doing," he said.
Demarais' work also resonates at the national, state and local levels, setting the standard for effective deer management across the landscape. The team has nearly 45,000 social media followers. Deer University podcast is perhaps the most popular outlet, surpassing 400,000 downloads with nearly 90,000 new downloads alone in 2020. Demarais co-hosts the podcast with Bronson Strickland, the lab's co-director and the St. John Family Professor of Wildlife Management. While Demarais is quick to credit Strickland with the idea to create a podcast, it's evident he's happy to share information with a broader audience.  
"The most important metric is whether or not our research gets applied. If what we do informs land management, conservation and hunting practices and if I can see excitement in the eyes of these stakeholders when I'm discussing our work, that's what makes the job meaningful and fun," he said.
Photo: Demarais leads a deer work-up at the captive deer facilities in the MSU Forest and Wildlife Research Center. The deer is tranquilized, and blood is taken so the animal's overall health can be assessed. The hood keeps the deer from being startled. (OPA Photo)