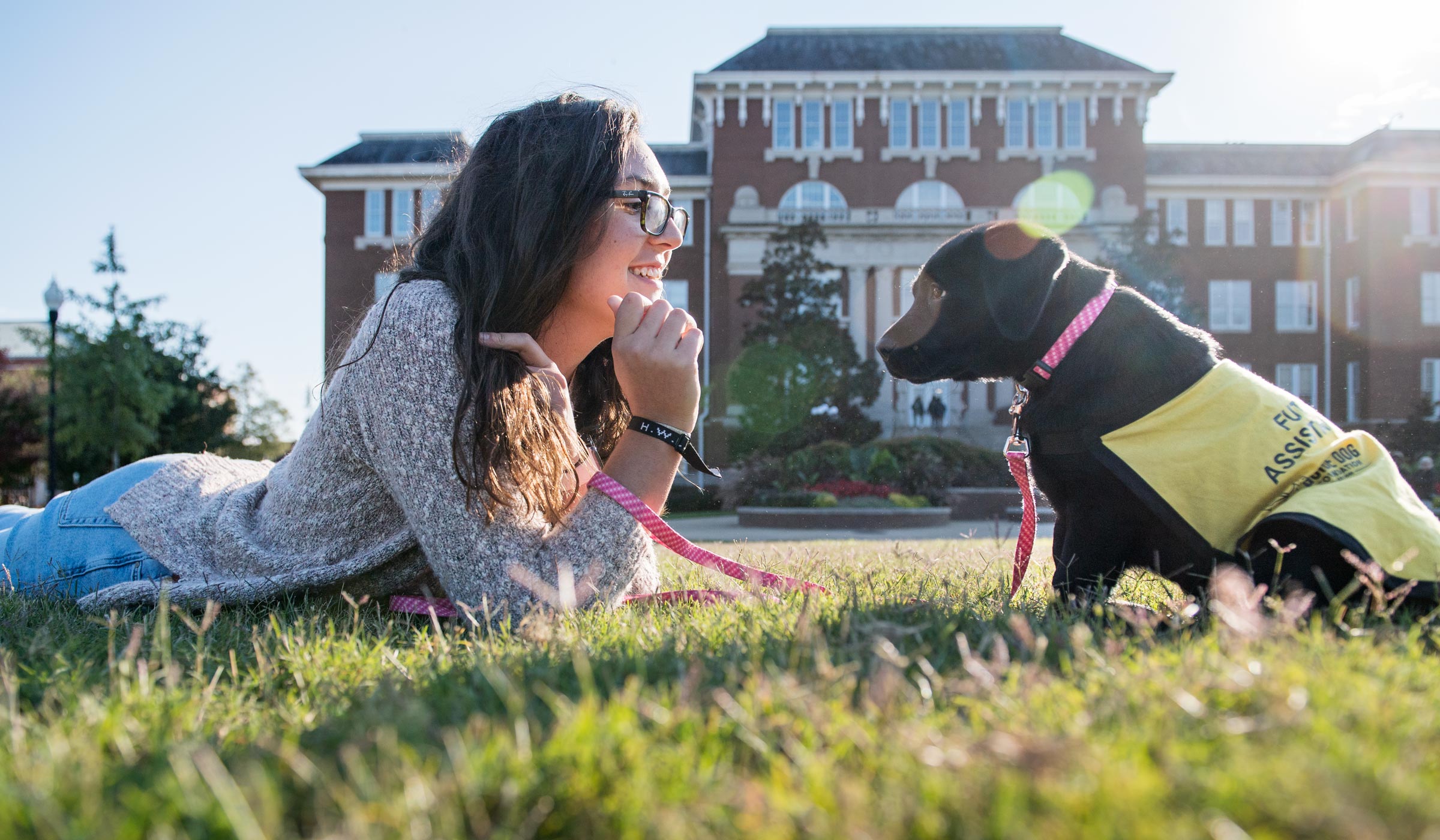 Maya Harlow is one busy Bulldog.
The junior animal and dairy science major with a pre-veterinary concentration serves as a College of Agriculture and Life Sciences Ambassador. She's a Young Life College leader, and she has earned an online certificate in companion animal management through MSU's Center for Distance Education. In August, she founded a new club called Puppies with a Purpose that has grown to more than 130 members in a matter of months. Perhaps her most exciting accomplishment has yet to begin as she's preparing to train her third service dog for the Guide Dog Foundation for the Blind.
"We have approximately 25 Puppies with a Purpose members at MSU who are going though puppy raiser and puppy sitter orientation in hopes of submitting applications to the Guide Dog Foundation to help support or raise their own," Harlow explained. "My personal goal or vision is that we could have five to seven assistance dogs on Mississippi State's campus by the end of this school year. It starts with this one that I'm about to raise."
Harlow said she developed a passion for veterinary medicine in high school as a volunteer puppy raiser for Canine Companions for Independence. The California-based nonprofit provides service dogs to adults, children and veterans with disabilities and facility dogs to professionals working in health care, criminal justice and educational settings.
"I'm Facebook friends with the people who received the two service dogs I trained previously, and I get little check-ins every once in a while, which is really sweet," Harlow said. "I fell in love with the science aspect of the veterinary medicine field and realized that by pursuing this degree, I not only could help animals but also help people through those animals. That human-animal bond is really what has continued to ignite my passion for the career."
Harlow said she has gained the confidence to pursue human-animal bond research with support from Erica Carroll, MSU animal and dairy sciences instructor. Carroll, also that department's undergraduate coordinator, serves as advisor for Puppies with a Purpose, which seeks to promote assistance animal advocacy, education and awareness in the MSU and Starkville communities.
"Ms. Carroll is awesome. I look up to her so much," Harlow said of her mentor. "She has taught me several courses within the companion animal management certificate program, and she's been very supportive of me pursuing my research interests regarding working dogs and the human-animal bond. She's been helping me find grants and helping me foster that knowledge and passion for learning."
Reflecting on all that she has achieved thus far, Harlow said she is glad she made the decision to attend Mississippi State. The College of Veterinary Medicine's Early Entry Program initially drew the Ozark, Alabama, native to the state's leading research university. The program allows high-achieving high school seniors—from Mississippi and out of state—to earn pre-approved acceptance into the competitive CVM.
"It's such a unique opportunity that very few schools in the country offer, so I applied," Harlow said. "When I got accepted, I said, 'I'm definitely going to State.' I didn't know anybody coming here, but I've absolutely just fallen in love with the university, and I couldn't picture myself anywhere else."