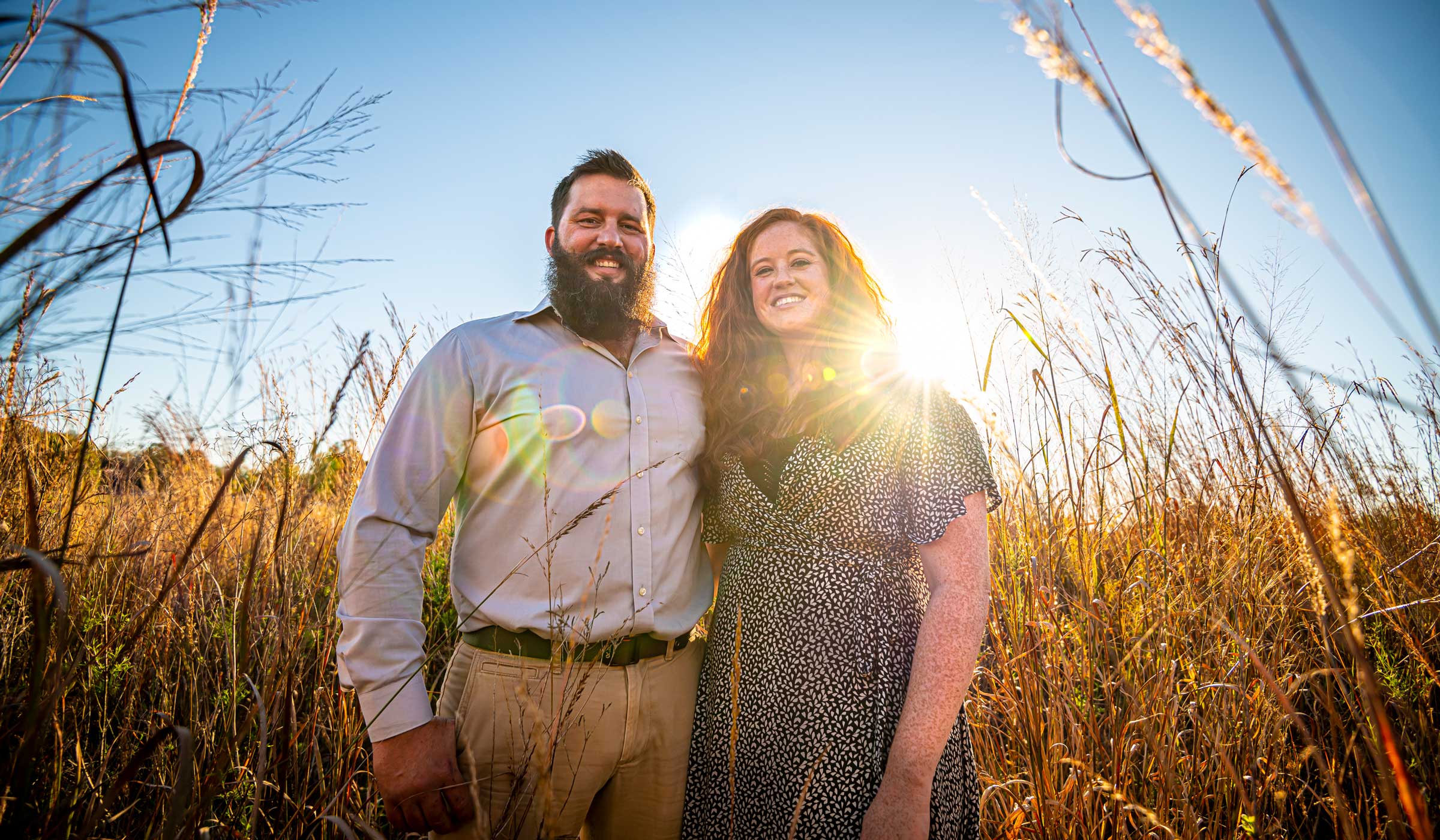 For couple Jesse and Carley Morrison, life is a classroom. Jesse's classroom has always been a farm, while Carley brings the farm into the classroom.
An assistant research professor in the Department of Plant and Soil Sciences, Jesse conducts forage and native grass research in the Mississippi Agricultural and Forestry Experiment Station on MSU's farms while Carley, assistant professor in the School of Human Sciences, prepares tomorrow's ag educators, communicators and leaders through initiatives such as "Farm to Classroom," a professional development program aimed to strengthen agricultural literacy in K-12 classrooms.
Jesse is a Glade Valley, North Carolina native who found a love of agriculture working at Berea College's farm as an agriculture and natural resource management undergraduate. He went on to the University of Kentucky, where he earned an agronomy and crop science master's before coming to MSU for a Ph.D. in agronomy. Carley grew up in Fort Worth and fostered an ag passion rodeoing and showing livestock in high school. She team roped as a student at Southern Arkansas University studying agricultural education and went on to earn a master's in agricultural and extension education from the University of Arkansas. The two met when Carley arrived at MSU to pursue a Ph.D. in agricultural sciences.
As a researcher, Jesse had little experience in the classroom. When he was asked to teach a grain crops course in 2019, the husband and wife team in the College of Agriculture and Life Sciences used the opportunity to collaborate on a project to help other research faculty with less formal teacher training.
"The challenges I experienced in the classroom were common. As a trained educator, Carley coached me through them, and I thought more people like me could use this help," Jesse said.  "Having Carley as a resource gave me more confidence in the classroom. While it wasn't always comfortable for her to question how I was doing things, Carley's input definitely made me better as an educator."
The project resulted in a conference publication and journal article and has since expanded to include four more faculty researchers across CALS and CFR.
Carley said Jesse's knowledge as a scientist helps her when she's pursuing research endeavors.
"Whether it's collaborating with him on a grant, asking advice about grant writing or asking him to help a student navigate research, I'm thankful for Jesse because he's such a great researcher," she said.
For Carley, her enthusiasm is rooted in education.  
"I absolutely love teaching. Just like Jesse is a researcher who is teaching every day, I feel like everything I do relates back to teaching. I love when my students come back and say, 'I got the job or accomplished this goal, or what you taught me made sense or connected.' This plus working with my graduate students and seeing them accomplish their goals makes it all worth it to me."
Jesse agrees that it all comes down to helping the students.
"Whatever credit I can take for instilling confidence in my students to help them become more confident, capable and prepared as researchers and people makes me feel like I'm serving a purpose," he said.