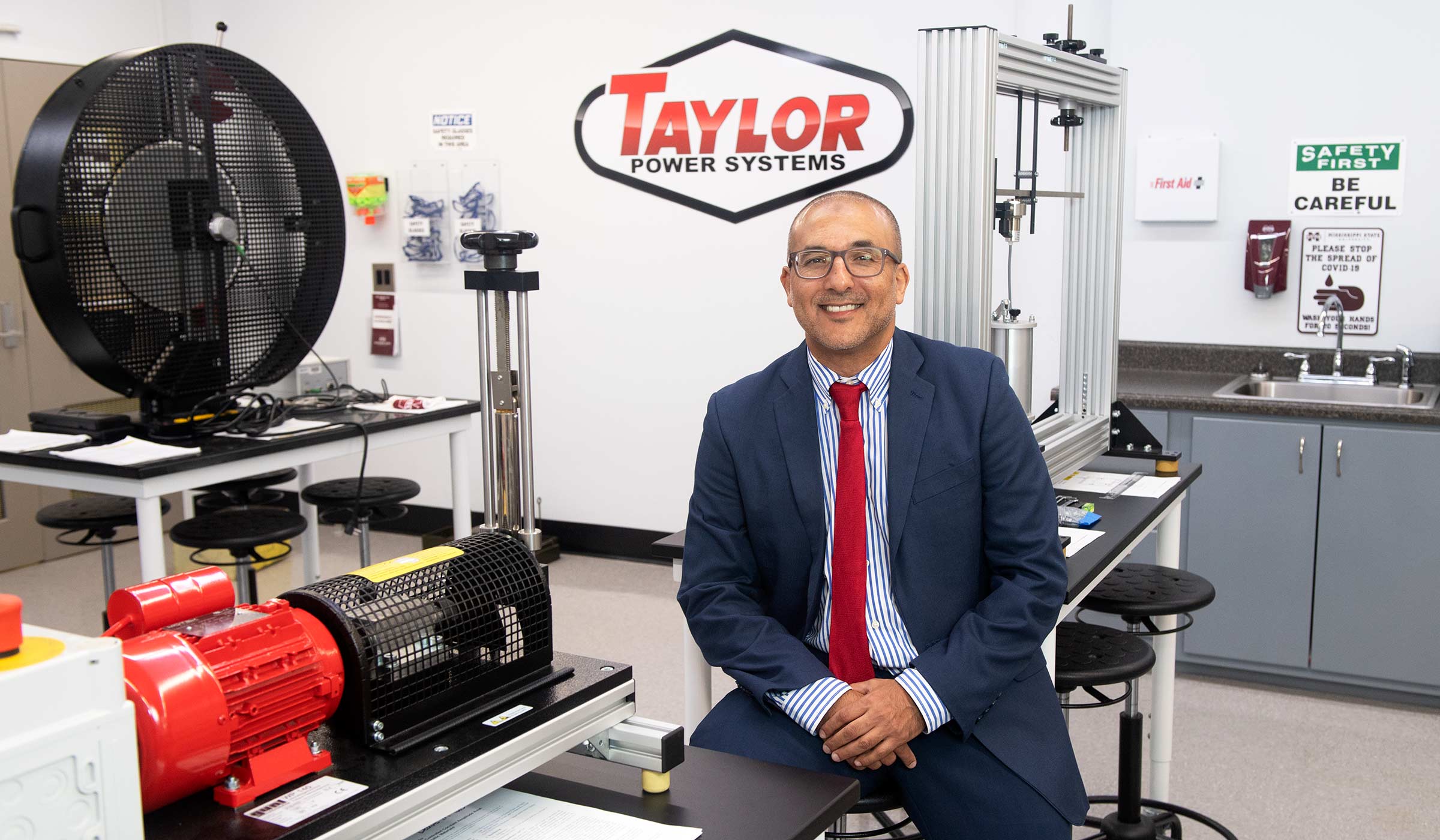 As the new department head for mechanical engineering, Haitham El Kadiri is responsible for helping to create a shared vision for one of the largest academic units at Mississippi State. And while his 17 years at MSU have certainly helped to prepare him for the job, he also can draw on what might be an uncommon background for an academic: spear fishing.
At first glance, it may seem that spear fishing and leading the biggest department in MSU's Bagley College of Engineering have little in common. For El Kadiri, though, the parallels are clear.
"When I was a boy in the 1980s, I earned pocket money as a spear fisherman," he said. "Before each dive, I could only see the shades of blue dancing on the water's surface. When you are sitting in the boat, you can only speculate which fish are under the waves and where they might be. But when I hit the water and reached the bottom, I could see what was in the reefs and I could pick the type and size of fish that I wanted."
Those youthful experiences in the waters of his native Morocco helped El Kadiri appreciate the importance of planning ahead. And they've helped inform how he approaches his position as department head.
"The process of developing a strategic plan is actually pretty similar to the approach to spear fishing," El Kadiri said. "Even though you can describe your vision—or what you see hidden under the water—some will remain skeptical until they see the results. The other fishermen would have their own theories about ideal weather or the best bait to use. But there are also people willing to lend a hand—whether helping you to carry your fishing gear or helping to implement a new vision for the mechanical engineering department."
Spear fishing certainly wasn't always easy. El Kadiri described having to hold his breath for extended periods as "excruciating." He also had to be aware of sharks, which were always an ominous threat.
Beyond helping to hone his strategic planning skills, that time spent diving helped El Kadiri develop a love of nature. While he doesn't dive for pocket money anymore, he's channeled that passion for the great outdoors into a company that specializes in adventure tourism in his homeland. There, where the Rif Mountains meet the Alboran Mediterranean Sea, he occasionally leads tours where visitors can hunt, fish, hike—and yes, even dive.
"I learned to be a visionary while exploring the reefs," El Kadiri said. "You have to be willing to dive where others can't see and to persevere under the harshest conditions. You must remain courageous in the face of fear. But it was fun, as well.
"Likewise, successfully implementing a shared plan can be challenging," he added. "You have to be able to convince others of your vision for the future. But when you reach your goals, the rewards are worth it."