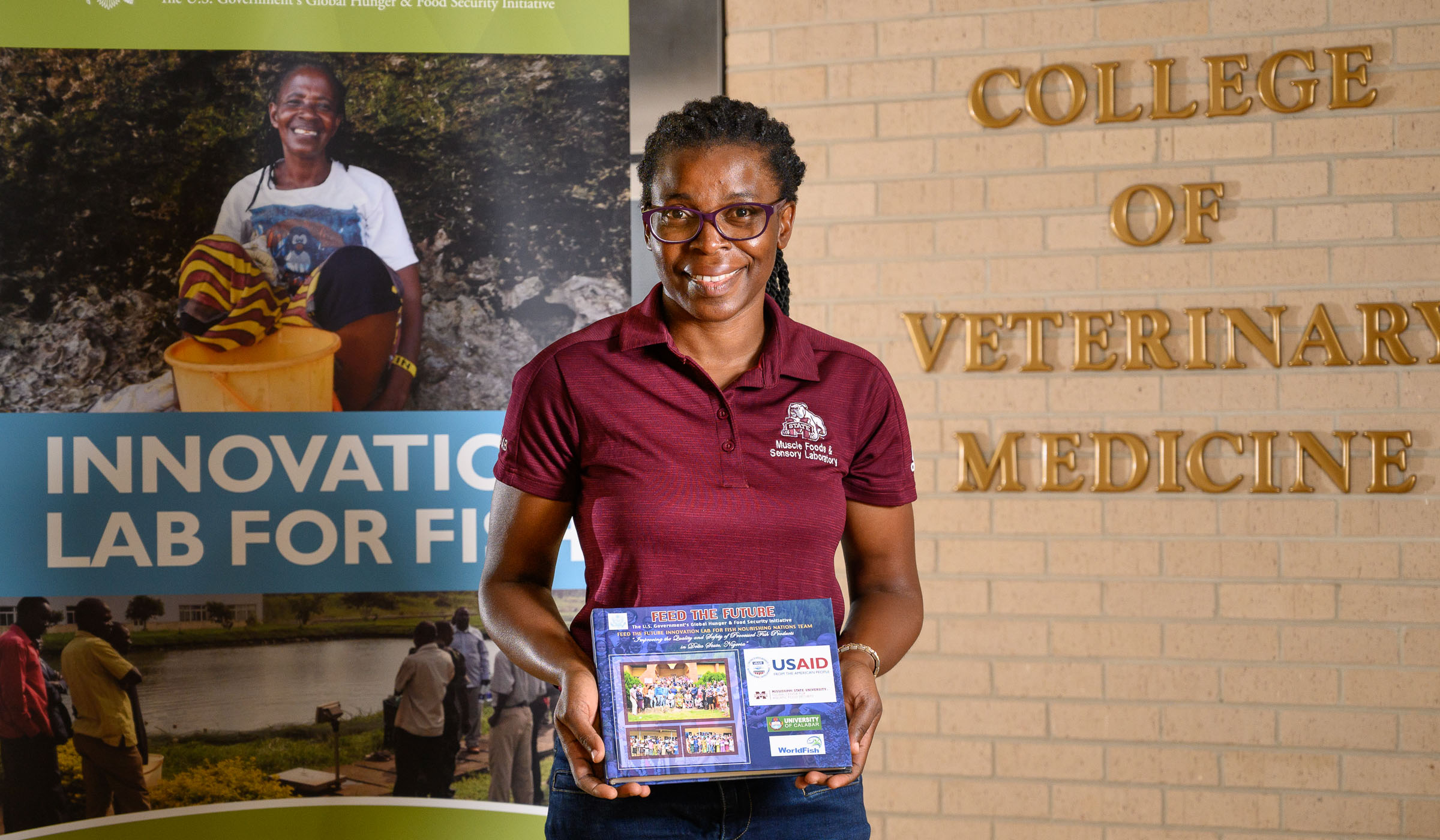 Grace Adegoye's path at Mississippi State University had some twists and turns, but ultimately led her to find her niche in the College of Agriculture and Life Sciences' Department of Food Science, Nutrition, and Health Promotion.
"When I came to the department, my advisor, Dr. Terezie Tolar-Peterson, asked me what I would like to do, and I said I would love to teach outside the classroom," said Adegoye, an MSU Ph.D. student from Ekiti State, Nigeria. "I'd love to be an international nutritionist and go to different countries to help people. I just want a classroom without walls."
Adegoye is doing just that through her work with the MSU-led Feed the Future Innovation Lab for Fish housed in MSU's College of Veterinary Medicine.
Funded by the U.S. Agency for International Development, the Fish Innovation Lab is working to reduce poverty and improve nutrition, food security and livelihoods in developing countries by supporting the sustainable development of aquaculture and fisheries.
Adegoye works with the lab's Nourishing Nations team, which Tolar-Peterson, associate professor and dietetic interim director, helps lead as the U.S. principal investigator. One of the team's objectives is to improve knowledge of nutrition among women and youth fish processors in Nigeria. Additionally, they hope to improve the quality and safety of processed fish products by developing training materials to teach fish processors about nutrition and how to safely handle and process fish.
"This research is a perfect blend for me. I found an opportunity to use my expertise in this project—talking about nutrition, food safety, health promotion, public health, sanitation and hygiene and food preservation," she said. "Everything is all encompassed in this one project."
Building on her background in environmental health from attending the College of Health Science and Technology in Ekiti State, the University of Ibadan in Oyo State, and Mississippi Valley State University, Adegoye was elated to be able to draw on the different components of her past experiences through the MSU-led project.
"Because I am from Nigeria, I have an understanding of what the community need is, and I am so pleased to be part of a project that is making an impact for the people in my home country," Adegoye said. "This work is extremely important in helping to improve the lives of children, youth and women to grow healthier through adequate nutrition. Also, we are helping to improve their livelihoods through teaching them quality and safe fish processing and improved marketing methods.
In addition to her work with the Fish Innovation Lab, Adegoye recently received $45,000 from the Peanut Institute Foundation, which was awarded under her advisor, and she will be working on research with other Mississippi Agricultural and Forestry Experiment Station scientists in Tolar-Peterson's MSU lab at the Herzer building.
"This particular project will last for a year and hopefully will be renewed," she said. "It is a randomized controlled trial where we will investigate the implications of consuming peanuts with 60 healthy college students who will volunteer to join the study. We want to see the implications of peanut consumption on cognitive function, on depression, as well as the biomarkers of metabolic health."
Adegoye plans to graduate in spring 2022 and hopes to work with an organization focusing on sustainable development goals.
"My plan is to work for a group that aims to improve the livelihoods of others, to help eradicate poverty and hunger and promote gender equality," Adegoye said. "I also want to have the opportunity to continue collaborative, international research, helping women and providing solutions for food insecurity. That is my passion."